Bruichladdich Black Art 8.1
This 26-year-old expression was distilled in 1994 and bottled in 2020. It continues in the mysterious character of the series where the exact casks used are known only to the head distiller. Non-peated, the oak highlights its delicate citrusy and fruity notes.

This is a PRE-ORDER: Bottles will be shipped mid-October.

Any orders containing this bottle will not be shipped until Bruichladdich Black Art 8.1 is available for shipping.
Inspired by an entrepreneurial flair and a youthful enthusiasm, the Harvey brothers began construction of the
Bruichladdich
(pronounced brook-laddie or broo-lah-dee) Distillery in 1881. The brothers were descendants of a dynastic whisky family — their ancestors had already owned distilleries in Scotland for over a century. Today, Bruichladdich Distillery (Bruichladdich means "rocky shore" in ancient Gaelic) remains situated on the shores of Loch Indaal on the island of Islay, and continues to use much of the original equipment installed by the Harvey brothers to craft a range of single malt whiskies that are trickle distilled, matured, and bottled on Islay.
The modern Bruichladdich Distillery is known as the most experimental and adventurous of the Scottish distilleries, implementing revolutionary, modern interpretations of time-honored ideas and challenging the comfortable conventions of a whisky establishment. Rejecting the onset of modern automation and homogenization, Bruichladdich's Head Distiller, Adam Hannett, only considers production methods that place the quality of liquid above everything else.
The Bruichladdich Black Art 8.1 continues the series' tradition of shrouding its expressions in a veil of mystery where the exact casks used to age the spirit are only known to the head distiller. This is Hannett's 4th release and 8th overall. It was distilled in 1994 and bottled in 2020, making it a 26-year-old single malt that was matured entirely on Islay. It is, of course, non-chill filtered and has no added coloring. This non-peated expression has the oak highlighting the delicate citrusy and fruity notes and is limited to 12,000 individually-numbered bottles.
Grab one of these limited-edition bottles today!
More Information

| | |
| --- | --- |
| Proof | 90.2 (45.1% ABV) |
| Distiller/Bottler Name | Bruichladdich Distillery |
| Size | 750mL |
The nose opens with citrusy and zesty notes of lime and orange, followed by caramel, honey, oak, dried fruit, tobacco, maple syrup, and nutty overtones. Pleasant oaky sweetness is balanced by citrusy notes on the soft and light palate, along with maple syrup, walnut, toasted oak, and spice, along with some vanilla and caramel. Finishes with gentle caramel, dried fruit, lemon cake, milk chocolate, and hazelnuts.
Note: Not Eligible for Return
Out of stock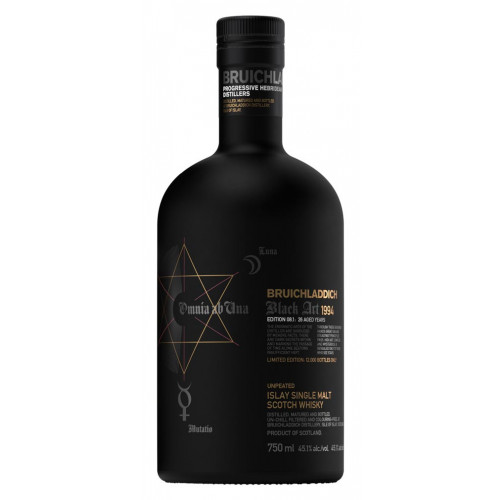 Pre-Release