About Us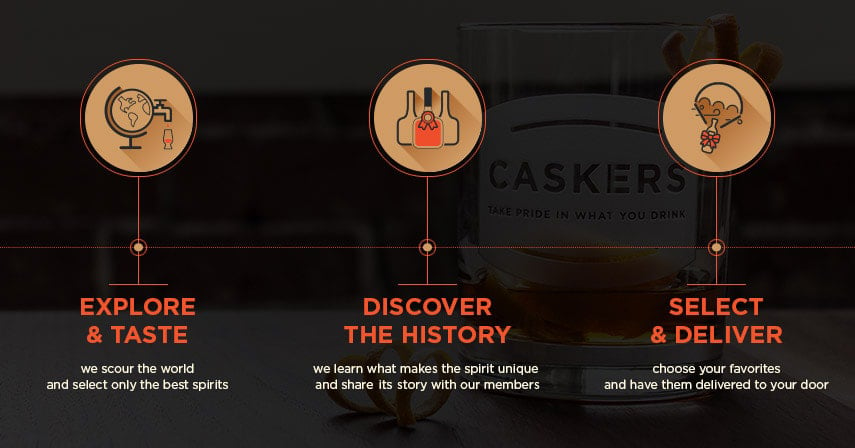 How it started:
Caskers was created in New York City in 2012 and it's now owned by Flaviar with the idea of collecting exciting spirits from around the world. We carefully curate our selection to ensure our customers have plenty to choose from for any occasion based on the most accurate information accessible.
How it's going:
Caskers is a one-stop spirits curator with an impressive selection of exclusive, sought-after, and hard-to-find spirits, along with popular household names.
Caskers members get to restock their home bars with favorites at reasonable prices, find new cherished spirits, treat themselves (or others) to rare and lavish drams, support specific crafters and innovative, underrepresented small-batch distillers, and find the perfect gift for any occasion.
To make your gift-giving experience as pleasant and precise as possible, we created the Gift Concierge. It's an easy-to-use bottle-selection system, where you get customized recommendations based on a quiz.
How it works:
Our experts work to select unique and extraordinary craft spirits from the US and the world and have them delivered to your door. You can make your picks from the curated selection updated daily. All to help you discover and buy a wide range of items that aren't necessarily available at your local liquor store reliably online.
Is Caskers legit?
Yes! But thanks for asking. Please don't just take our word for it. Many spirits-loving Americans already trust this company and enjoy the perks of shopping with us long-term. Learn about the experiences our customers had shopping with us first hand here: Reviews and Ratings.
We are collecting feedback from various channels on the quality of our portfolio and customer service, so you can get the most updated and credible insight we can provide. Anything else we can do to reassure you that you're dealing with real industry experts? Please let us know!
How to get in touch? Email us, or hit us up on Facebook, Instagram, or Twitter. We'll be happy to hear from You.
*** All alcohol sales are solicited, offered, accepted, made and delivered by alcoholic beverage licensees. You are not buying from Caskers, but Caskers is connecting you to the people who have products we think you'll love, so that you can take pride in what you drink!