Springbank 12 Year Burgundy Wood Single Malt Scotch Whisky
From the historic Campbeltown, once dubbed the whisky capital of the world, this stunning single malt is a Springbank limited edition release. Distilled two and a half times, and aged for 12 years in French wine casks, the whisky is bottled at a respectable 53.5% ABV.
Almost two centuries ago, a small fishing port by the Campbeltown Loch on the Kintyre peninsula was considered the whisky capital of the world. Passengers arriving by sea at Campbeltown Loch — nestled between Macringan's Point and the rocky island of Davaar — were greeted with the sails and masts of the herring fishing fleet and the smoking chimneys of nearly thirty different distilleries that called Campbeltown home. Two hundred years later, Campbeltown Loch is considerably quieter and only three chimneys continue to billow smoke — each acting as a beacon for an industry that, at one point, dominated the peninsula.

Campbeltown is home to the Springbank Distillery, which was founded in 1828, on the site of Archibald Mitchell's illicit still in Campbeltown (the distillery is currently owned by Mitchell's great-great-great-grandson). Springbank garnered such a great reputation for its premium quality whiskies, and by the turn of the century — as worldwide demand for Scotch whisky seemed insatiable — distilleries throughout Scotland began cutting corners and outsourcing parts of the distillation process. Springbank Distillery, however, remained true to its Scottish heritage and today, remains one of only two distilleries in Scotland to perform every step of the whisky making process — from malting barley to bottling whisky — on the same premises.

After malting and lightly peating the barley (using locally cut peat), the distillers at Springbank mill and mash it in cast-iron mash tuns that are nearly a century old. The pure spring water used during the mashing process is sourced from Crosshill Loch, which in turn is fed by springs seeping from the northern slopes of 1,100-foot tall Beinn Ghuilean. After mashing the grains, the wash is slowly fermented over the course of 70 hours — one of the longest fermentation processes in Scotland — before being distilled. Because some of the wash is distilled twice and some is distilled three times, Springbank Whisky is said to be distilled two and a half times.

Introduced in 2016, Springbank 12 Year Burgundy Wood is a special single malt, aged for 12 years in ex-wine casks from Burgundy, France. A limited 10,260 bottles were released. With mid-peaty notes, and flavors of French wine, this special release is bottled at a respectable 53.5% ABV.

Pick up a bottle of this limited edition today!
More Information

| | |
| --- | --- |
| Proof | 107 (53.5% ABV) |
| Distiller/Bottler Name | Springbank Distillery |
| Size | 750mL |
The nose is bold and rich with French red wine, maple syrup, cranberry and blackcurrants. The palate is velvety with malt and chocolate rounded out by lighter herb and oak notes. The finish is medium dry giving way to licorice and mint wood tannings.
Note: This product is not eligible for gift wrapping.
Note: Not Eligible for Return
Out of stock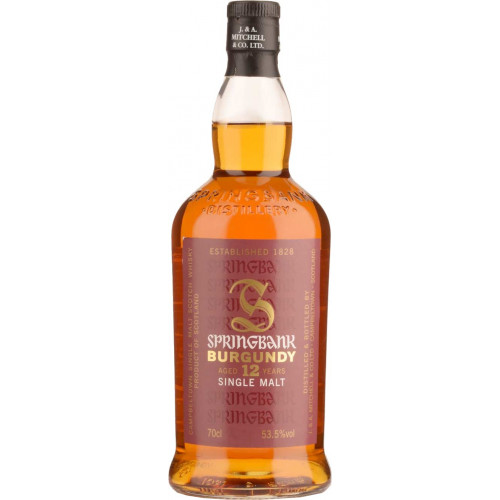 Limited Edition