Plantation Trinidad Vintage 2003 Rum
Plantation Trinidad 2003 is an elegant fruity double-aged rum from the brand's Vintage line. This expression was aged for 8 years in Bourbon casks in Trinidad, and four years in Ferrand casks in France, before it was bottled at 42% ABV.
Plantation Rum is a brand of artisanal Caribbean rums, owned by Maison Ferrand, a French producer of fine spirits. The story starts with Cognac. In 1989, Alexander Gabriel discovered Maison Ferrand, one of the oldest Cognac houses, which had a good stock of Cognac and great reputation, but its sales were lagging. Gabriel and Mr. Ferrand went into partnership, and Gabriel, who was still in business school at the time, started by building a distribution network for the brand. After putting Ferrand Cognac on the map, Gabriel went on another quest – to revitalize French artisanal spirits. Mathilde Liqueurs were born from his passion, curiosity, and refined taste for beauty, and the fond memories of his grandmother's cassis liqueur. Gin is another of his passions, and in 1996 the company introduced Citadelle Gin, which is made in the same pot stills that produce Ferrand Cognac at the time of year when Cognac cannot be distilled under the regulations. In the 1990s, Gabriel combed the Caribbean in search of the best rums, and in 1999 Plantation Rum was created. Maison Ferrand now owns the West Indies Rum Distillery in Barbados, and holds a stake in the distiller National Rum of Jamaica. It also sources its rums from some of the best distilleries from across the Caribbean.

Plantation Rum is produced using a combination of traditional and modern rum-making techniques, and most expressions undergo the brand's signature double-ageing process. After maturing for several years in white oak Bourbon casks in the tropics, where the angels' share is high, the rum is shipped to France for cask finishing, including Cognac cask finishing. While the white oak infuses the rum with vanilla, spicy and slightly smoky notes, the secondary finish adds delicate tannic undertones.

Plantation Trinidad 2003 is a fruity double-aged rum from the brand's Vintage line of very limited editions that celebrate legendary distillers and rare vintages. This expression was distilled in 2003, and aged 8 years in Bourbon cask in Trinidad, followed by four years of continental maturation in Ferrand casks.

Grab your bottle today!
More Information

| | |
| --- | --- |
| Proof | 84 (42% ABV) |
| Distiller/Bottler Name | Trinidad Distillers Ltd |
| Size | 750mL |
The fruity and nutty nose opens up to an elegant palate with notes of tropical fruit, nuts and caramel. The finish is long and dry with some spice.
Note: Not Eligible for Return
Out of stock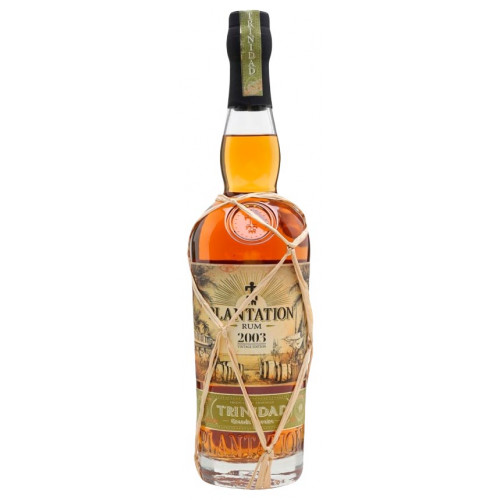 Limited Edition