Chapter 7 Highland 19 Year Old Small Batch Single Malt Scotch Whisky
From an anonymous distillery, only 1076 bottles of this special 19 year old Sherry cask aged, Highland malt were ever produced.
Chapter 7
is an independent bottler's brand created in 2014, in Switzerland by Selim Evin, as a passion project dedicated to whisky. Inspired by his grandfather's love of whisky, Evin started off by bottling single casks from Scotland's lesser known distilleries. Whiskies that laid foundations for well known brands, but where nevertheless, not very well known. Driven by sheer curiosity, Evin uncovered whiskies from Scotland, Ireland, and eventually began vatting them, "exploring the fascinating world of blending."
Chapter 7's Master blenders marry the hand-selected spirit in large vats. Selim Evin travels to Scotland and Ireland to hand select single casks from the inventories of the world's greatest distilleries. Then he custom bottles each one with its own story. Every cask of Chapter 7 Whisky has its own unique character. From the wood, age, temperature, to its location in the rickhouse.
Evin gives lesser-known distilleries and their casks the spotlight, hidden gems with exceptional quality and character. With a team of whisky experts, the final selection is the product of collaborations with fifteen different suppliers, service providers and trade partners. 
Their impressive range of spirits include four single malts that averaged 91.6 points in Jim Murray's Whisky Bible 2016. Their Tormore 1995 edition received a Liquid Gold Award in the 2017 Whisky Bible, and 2 Liquid Gold Awards with Peatside 2009 Blended Malt and Irish Single Malt 1999 aged in a rum cask.
Chapter 7 Highland Small Batch 19 Year Old is fairly distinct even for a company like Chapter 7. These casks of 19 YO, Sherry cask aged, Highland single malt Whisky (casks #796 & #1476) are very limited. With notes of roasted peaches, biscuits and apple-pecan pie, only 1076 bottles were produced. This well-seasoned Scotch is bottled at 56.7% ABV.
Pick up your bottle today!
More Information

| | |
| --- | --- |
| Proof | 112.4 (56.2% ABV) |
| Distiller/Bottler Name | Undisclosed |
| Size | 750mL |
Roasted peaches, rancio, fresh biscuits, and cream on the nose. Apple-pecan ice cream, lemon zest, and cranberry scones on the palate. The finish is warm, long, and lightly sweet.
Note: Not Eligible for Return
Out of stock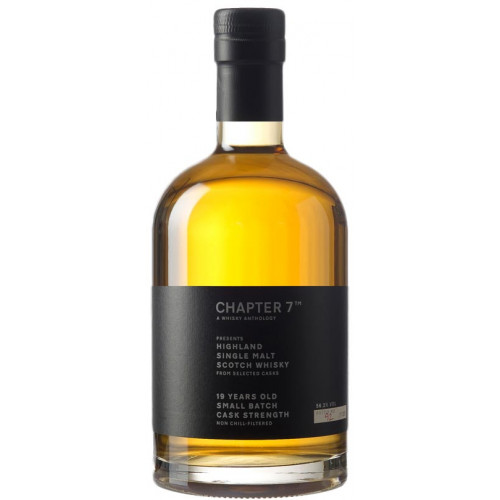 Limited Edition