Woodford Reserve Batch Proof 2021 Release Kentucky Straight Bourbon Whiskey
The 2021 limited-edition annual release of Woodford Reserve Batch Proof is bottled at 128.3 proof, allowing you to taste bourbon in its purest form.
Steeped in the history of bourbon, Woodford Reserve Distillery is situated on the site of a historic landmark in Kentucky where fine bourbon was first made in 1812. Among the oldest and smallest bourbon distilleries in Kentucky, Woodford Reserve crafts its own barrels and it's the only spirits company with its own cooperage. More than two centuries after the first drop of bourbon was distilled at this historic spot, Woodford Reserve continues to make fine bourbon with Chris Morris and Elizabeth McCall as Master Distillers. According to Morris, their mission is "to create new and different things with an artisan's touch while maintaining the essence of Woodford Reserve."

Woodford Reserve's vision is based on sustainability and protecting natural resources. More than 98% of waste material gets recycled while 10 acres of land are dedicated to native grass restoration. The mineral rich water, a key ingredient in their whiskey, comes directly from the distillery as the underground limestone deposits filter it.

Every year, Woodford Reserve Bourbon releases its limited-edition batch proof expression. The 2021 annual release of Woodford Reserve Batch Proof is bottled at 128.3 proof. Part of the Master's Collection series, these expressions celebrate the vision of Master Distiller Chris Morrison and the batching process at Woodford Reserve. The barrels are blended into a batch and the whiskey is then bottled at its actual proof. The mash bill of this limited-edition bourbon is the same as in Woodford Reserve Kentucky Straight Bourbon only this edition offers their bourbon in its purest form due to the bottling straight from the barrel. Here, the flavor profile of sweet vanilla and toasted oak is blown to entirely new dimensions, letting you taste the bourbon in its truest form.

Get your limited-edition Woodford Reserve!

More Information

| | |
| --- | --- |
| Proof | 128.3 (64.15% ABV) |
| Distiller/Bottler Name | Woodford Reserve |
| Size | 750mL |
A rich chestnut hue. On the nose, aromas of dried cranberry and raisin fruit greet you before giving way to spicy sandalwood, close and aged leather. The palate is full of rich raisin and brown sugar notes. The sweetness is balanced by spicy leather and rich oak, almond and cedar wood notes. The finish is long with notes of raisin fruit and malty sweetness.
Note: Not Eligible for Return
Out of stock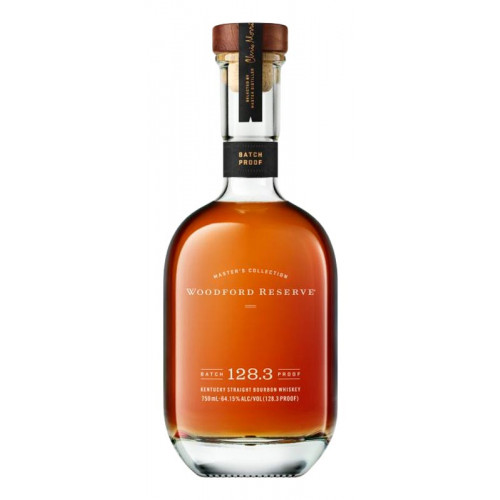 Limited Edition