Talisker 10, Distillers Edition & 57° North Single Malt Scotch Whisky Three-Pack
This package of three sample-sized Talisker single malts includes a bottle named "Liquid Gold" by the Whisky Bible.
Situated on the shores of Loch Harport, Talisker Distillery is heavily influenced by its location on the Isle of Skye — it embodies the spirit of the rocky, storm-lashed island and its strong, steadfast people. The distillery was founded in 1830 by Hugh and Kenneth MacAskill, who leased the Talisker House from Clan MacLeod and eventually converted it into a distillery. When a new lease for the distillery was negotiated between the MacAskills and Clan MacLeod in the second half of the 19th century, the annual rent settled upon was £23.12 and a ten-gallon cask of the best Talisker Whisky available.

Talisker Single Malt Whisky is made from malted barley sourced from the Muir of Ord, a village in Highland, Scotland. The barley is lightly peated to approximately 18 phenol parts per million, which contributes a slightly smoky flavor profile to the whisky. Once the barley has been malted and peated, it is mashed using soft water drawn from one of the 14 underground springs that rise from Hawk Hill — Talisker has been using the same water source since it was founded nearly two centuries ago. "I'm restless at heart so you'll find me poking my nose into the mash tun at all hours," says Mark Lochhead, the distillery's manager. After the barley has been mashed, it is fermented in the distillery's wooden washbacks before being twice distilled through Talisker's copper-pot stills. The stills are equipped swan-shaped lye pipes and worm tubs, which gives Talisker whisky its signature, full-bodied flavor profile.

Talisker 10 Year Old Single Malt Whisky is matured in traditional oak casks for a minimum of ten years. The whisky has a slightly smoky aroma, with hints of spice and salt. The aroma gives way to notes of smoked meat, black pepper, cloves, honeyed oak and masa on the palate, and ultimately leads to a slightly sweet and long finish.

Talisker Distillers Edition 2013 Single Malt Scotch Whisky was distilled in 2002 and matured for ten years in used, American bourbon casks. After its initial beautyrest, the whisky was double-barreled, or finished, in casks that were previously used to mature Amoroso sherry. As a result, Talisker Distillers Edition is imbued with an aroma of red fruits, berries and apricots, which lead to a crisp, full body. Initially, the whisky has sweet, fruity flavors, along with touches of sea salt, peat and vanilla that ultimately fade into a lingering, elegant finish.

Talisker 57° North was named for the Isle of Skye sits on the line of latitude 57° North. It has a bold aroma of citrus and rich peat that develops into notes of kelp, lemon juice, honey, peppered oak and spice on the palate. Notes of dry rub, spices, black pepper and oak linger on the finish, and are accented by hints of sour citrus. The whisky was named "Liquid Gold" by the Whisky Bible, and earned five stars from Difford's Guide.

Pick up the three pack today!


More Information

| | |
| --- | --- |
| Proof | 57° North: 114 (57% ABV); Distillers Edition & 10 Year Old: 91.6 (45.8% ABV) |
| Distiller/Bottler Name | Talisker Distillery |
| Size | 600mL |
Note: This product is not eligible for gift wrapping.
Note: Not Eligible for Return
Out of stock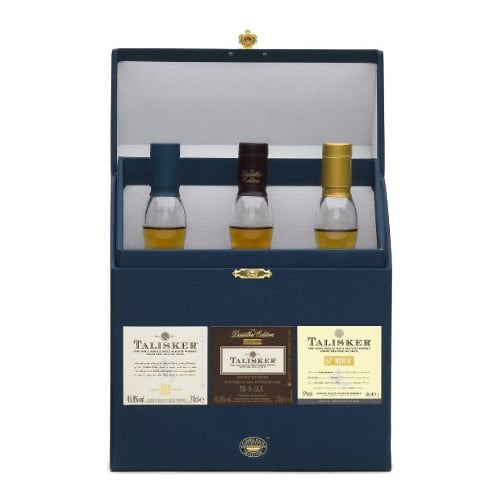 Limited Supply