Sagamore Spirit Port Finish Rye Whiskey
This unique rye earned World's Best Rye Whiskey at the 2019 San Francisco World Spirit Competition.
In the early 1800s, Maryland farmers were known to use rye as a cover crop. Its fibrous and sturdy nature kept soil healthy, protecting the land from erosion, not to mention it made a great quality whiskey. Rye whiskey production also proved to be more profitable than selling the raw grain. After the spring harvest, the grains were distilled, and rye whiskey became the unofficial spirit of Maryland.
Sagamore
Spirit is reminiscent of these early days of Maryland distilling, paying homage to this era with a uniquely crafted spirit. Maryland rye whiskeys are historically smoother. In their early stages, the majority of production went into blends for other companies; they currently own their private distillery outfitted with a brand new visitor center in Maryland.
Sagamore produces a range of all American Rye Whiskeys. Historically, Maryland Rye Whiskey is a much smoother whiskey than its Pennsylvanian and Kentucky counterparts, harboring creamy tastes and textures from the calcium rich waters of Maryland limestone.
World's Best Rye Whiskey. 2019 San Francisco World Spirit Competition. This whiskey is a marriage of Straight Rye Whiskies finished in the finest European and American Port barrels, delivering a perfect blend of plum, cherry, and baking spices that conclude with a full, dry finish.
Pick up your bottle today!
More Information

| | |
| --- | --- |
| Proof | 101 (50.5% ABV) |
| Distiller/Bottler Name | Sagamore Spirit Distillery |
| Size | 750mL |
Heavy baking spices, plum and toffee on the nose. The palate is bold with black cherry jam with dark fruits. A dry finish complimented with a touch of smooth caramel.
Note: Not Eligible for Return
Out of stock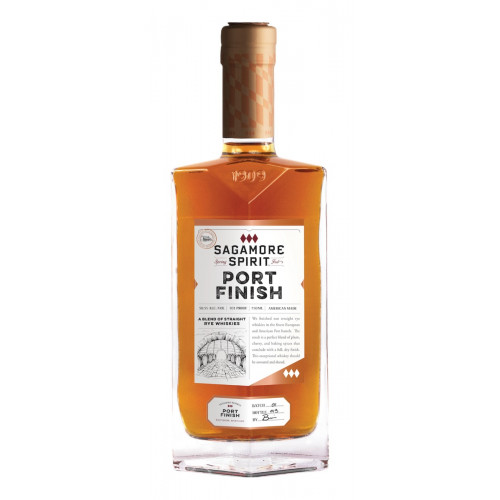 Free Shipping