Crafted by Crispin Cain, this whiskey channels the purity of North California nature. Double distilled using a Charentais pot still that is usually employed in cognac-making, it's an approachable and well-balanced straight bourbon.
Master distiller Crispin Cain is a seasoned spirits and wine industry veteran. In 1983 he was moonlighting jobs in Pleasanton in a wine cellar, and on a bottling line, while working with Cooper Laboratories plasma kinetics division during the day. After having settled in Mendocino County, in '89 Crispin Cain worked as assistant distiller to the brandy master Hubert Germain-Robin for seven years before founding Greenway Distillers Inc. with his wife, partner, and vice president, Tamar Kaye in 2005.

In 2008, he started a second company, Tamar Distillery Inc. which produces Low Gap Whiskey, Russell Henry Gin, DSP 162 Vodka, and Fluid Dynamics Barrel Aged Cocktails. Cain has proved to be quite the wizard on the still, known for delivering award-winning spirits, he has been distilling since way back in 1989.

It was while working for Germain-Robin that Cain got the idea of creating high-quality whiskey from Northern California that would express the purity of nature, "one which expresses the simple beauty of clean air, clean water, and tall trees, while capturing the complexity of malted grains from a variety of local and classic sources." He continues: "I create Low Gap whiskies using the time honored traditions of Cognac, keen attention to fermentation, the Charentais Pot Still, the double distillation method, choosing fine barrels to match fine spirits. Carefully selecting the distillate which becomes Low Gap Whiskey is the best part of my job, I do this with great pleasure," says Cain of his Low Gap Whiskey. Crafted from a mash bill of 55% corn, 30% malted barley, and 15% malted rye, then aged in new charred oak for upwards of 3 years, this expression is bottled at 86.5 proof.

Pick your bottle up today!

More Information

| | |
| --- | --- |
| Proof | 84.4 (42.2% ABV) |
| Distiller/Bottler Name | Tamar Distillery |
| Size | 750mL |
The buttery nose opens with malt, butterscotch, vanilla, oak, caramel, toffee, and fudge. There's maple syrup, corn, wood, and spice on the palate, along with some citrus and chocolate. The finish is smooth and soft with malt and toasted grain notes.
Note: This product is not eligible for gift wrapping.
Note: Not Eligible for Return
Out of stock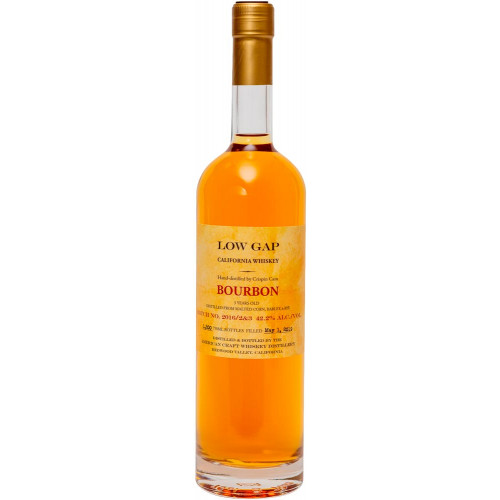 With Engraving