Longrow Red 13 Year Old Malbec Cask Finish Scotch Whisky
This 13 year old Campbeltown single malt was release in 2017. Finished for 15 months in Malbec casks, the decadent wine finish imparts fruited flavors, harmoniously complementing the single malts fiery peat character.
Nearly two centuries ago, the town of Campbeltown, located on a narrow peninsula in southwest Scotland, was considered the whisky capital of the world. Passengers arriving by sea at Campbeltown Loch, nestled between Macringan's Point and the rocky island of Davaar, were greeted with the sails and masts of the herring fishing fleet and the smoking chimneys of nearly thirty different distilleries that called Campbeltown home. Two-hundred years later, Campbeltown Loch is considerably quieter and only three chimneys continue to billow smoke — each acting as a beacon for an industry that, at one point, dominated the peninsula.

In 1828, Springbank Distillery was founded on the site of Archibald Mitchell's illicit still in Campbeltown (today, Mitchell's great-great-great-grandson owns the distillery). Within ten years, its whisky was so well-regarded that a blender by the name of Johnnie Walker purchased 118 gallons at 43 pence a gallon.

By the turn of the century — as worldwide demand for Scotch whisky seemed insatiable — distilleries throughout Scotland began cutting corners and outsourcing parts of the distillation process. Springbank Distillery, however, remained true to its Scottish heritage. Today, it remains one of only two distilleries in Scotland to perform every step of the whisky making process — from malting barley to bottling whisky — on the same premises.

"First distilled in 1973 Longrow is a double distilled, heavily peated single malt produced in Springbank Distillery in Campbeltown. The malt is peat dried for up to 48 hours to give the whisky a unique Campbeltown-style smoky character. Less than 100 casks of Longrow are filled each year…" (producer).

This 13 year old Campbeltown single malt was released in 2017 aged initially for 12 years in bourbon barrels, before being finished for 15 months in Malbec casks. As opposed to sherry, the Malbec finish provides a delicate fruited balance to the strong peat character, producing an impeccable flavor. Barriques used for this process comes from De Toren Private Cellar in Stellenbosch, South Africa.

This is limited series limited to only 9,000 bottles all together.

Pick up your bottle today!
More Information

| | |
| --- | --- |
| Proof | 102.6 (51.3% ABV) |
| Distiller/Bottler Name | Springbank Distillery |
| Size | 750mL |
The nose is smoky from the off, but also generous and soft, mixing lightly earthy, lush black fruits (cherry, cooked plum) with a lightly meaty element. Autumnal and complex. The palate is an immediate and beautifully balanced mix of fruits and smoke. The finishing cask adds layers of pomegranate molasses, cherry and fig that give depth. The finish is generous, smoky and rich.
Note: This product is not eligible for gift wrapping.
Note: Not Eligible for Return
Out of stock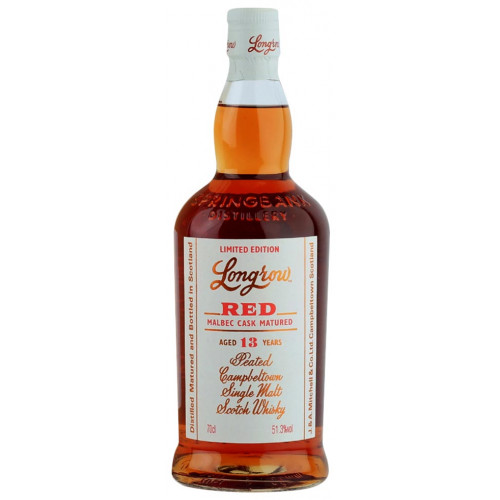 Limited Edition