Bruichladdich Bere Barley 2008 Single Malt Scotch Whisky
This time-honored vintage is crafted from 100% bere barley grown on the Dunlossit Estate, and pure Islay spring water.
Bruichladdich
is an award-winning distillery employing generations of distilling knowledge and the principle of minimal intervention. Built-in 1881 on the wild Scottish island of Islay, their distillery still uses the original Victorian equipment to create a range of single malt whiskies that are trickle distilled, matured and bottled solely on Islay by a skilled team of men and women. Bruichladdich implements revolutionary, modern interpretations of time-honored ideas and challenges the comfortable conventions of a whisky establishment.
Rejecting the onset of modern automation and homogenization, Bruichladdich Head Distiller, Adam Hannett only considers production methods that place the quality of liquid above everything else. Diversity starts in the field. Provenance is key. They believe the interaction of man, land, soil, and climate is paramount. They value their farmer relationships, reconnecting that lost cycle between farmer and distiller -- land and spirit.
The modern Bruichladdich Distillery is known as the most experimental and adventurous of the Scottish distilleries. They transform the craft into an artistic fusion of time-honored and contemporary with their inspired series and releases. Part of their Provenance Series, Bruichladdich Bere Barley 2008 is a true reflection of Bruichladdich's affinity for time-honored traditions, as Adam Hannett aptly puts it, "a move to reconnect whisky with its vital raw ingredients…"
Although climate change is sparking renewed interest in this grain, bere is Britain's oldest cereal crop, a six-row barley that can trace its ancestry back to the very dawn of their agriculture, approximately 5,000 years ago. Once widespread, the past two centuries have seen the grain uprooted by modern hi-yielding two-row varietals designed by plant breeders to maximize growth.
Bere thrives in the northern Isles because it grows quickly in poor, sandy soils and ripens early in long hours of summer daylight. But this grain's success also comes from its flavor profile which yields great-tasting beremeal producing delicious beers and whiskies.
The resilient grain has made a reappearance. With climate change driving cereal production northwards, its ability to grow and ripen so quickly on nutrient-poor is a vital trait. Although challenging, several attempts were made to grow bere in Scotland. Grown in partnership with the Agronomy Institute of the University of Highlands and Islands, Bruichladdich successfully managed five harvests grown on Islay on the Dunlossit Estate.  
Not only was it difficult to grow, but milling the grain proved problematic as well, the dense grain damaging the distillery's mash tun which is over a century old. Bruichladdich Bere Barley 2008 is an unpeated, 100% Bere barley. Bruichladdich is 1 of only three distillers in Scotland to grow this varietal. Distilled in 2008, this vintage expression is crafted from 100% bere barley and pure Islay spring water. Nonchill filtered and coloring free this whisky is bottled at a solid 50% ABV.
Pick up your bottle today!
More Information

| | |
| --- | --- |
| Proof | 100 (50% ABV) |
| Distiller/Bottler Name | Bruichladdich Distillery |
| Size | 750mL |
Green fruits - gooseberries, apples and pears on the nose. The palate is rich, malty and great in depth.
Note: This product is not eligible for gift wrapping.
Note: Not Eligible for Return
Out of stock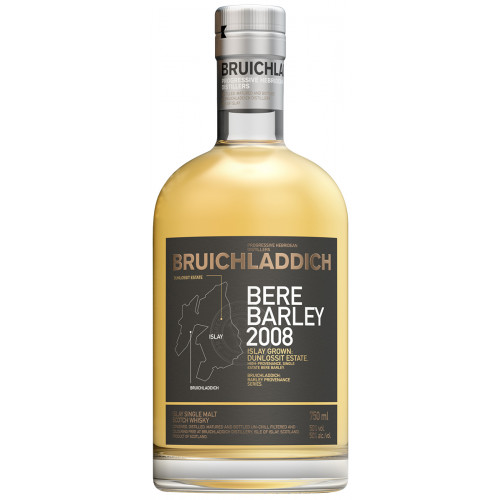 Exclusive