Linkwood-Glenlivet 26 Year Old Single Malt Scotch Whisky (Cadenhead Bottling)
Produced in 1989 and bottled in 2016, this 26-year-old Linkwood Cadenhead's bottling was released as a part of their small batch series.
Linkwood Distillery is a whisky distillery in Elgin in the Speyside region. The distillery was built in 1821 by Peter Brown, equipped with two stills, beginning production in 1825 with potential output of 4,500 liters per year. The distillery remained operated by James Walker (who had previously worked at Arberlour) until Brown's death in 1868, after which the distillery got under came under the control of his son, William Brown.

Between 1872 and 1873 William Brown, revamped the distillery with the help of architect Methven, after replacing the old facility at the same location, the new distillery was equipped with a capacity of 227,000 liters per year. After William Brown's death in 1893, Linkwood-Glenlivet was created by the Browns family in 1898, adopting the famous moniker in an attempt to cash in on the success of Glenlivet. The distillery was then further extended to a capacity of 454,000 liters per year.

After changing hands several times, the company is now owned by the industry giant Diageo, who added two extra pairs of stills and tripled whisky production at Linkwood. They produce blends for Johnnie Walker, Haig, Bells and White Horse.

Linkwood is now a workhorse of the Diageo machine producing whisky for blends such as Johnnie Walker, Haig, Bells and White Horse with only a very small 2% used for single malts. This 26-year-old Linkwood is from independent bottler Cadenhead's as a part of their small batch series. This whisky was produced in 1989 and bottled in 2016.

Pick up your bottle today!
More Information

| | |
| --- | --- |
| Proof | 113.6 (56.8% ABV) |
| Distiller/Bottler Name | Linkwood Distillery |
| Size | 750mL |
Dried fruit, chocolate, cigar box, strawberry jam. On the palate is liquorice, coffee beans, chocolate digestives and raisins. The finish is slightly grassy with a hint of citrus on the finish.
Note: Not Eligible for Return
Out of stock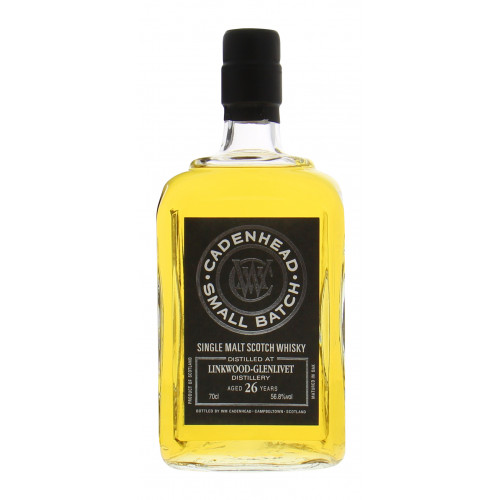 Limited Edition