Kavalan Sherry Cask Single Malt Whisky (Cask Strength Edition)
Matured in top quality Spanish oloroso sherry casks, this incredible Kavalan Sherry cask is non-chill filtered and bottled at cask strength from a single cask onsite.
The term "Kavalan" refers to some of the earliest inhabitants of Taiwan, who settled the modern-day Yilan County during the 16th century. Legend has it that the Kavalan arrived by sea from the east and upon seeing the stunning beauty of Taiwan, decided to settle the bountiful land.

Kavalan Single Malt Whisky is crafted by the King Car Group, which was established in Taiwan in 1956. The whisky is made entirely in Taiwan from malted barley that is imported from Scotland. Once the grains arrive in Taiwan, they are milled and mashed, before being fermented with water drawn from springs situated in the Central and Snowy Mountain ranges. This incredibly pure and quintessentially Taiwanese water source adds slightly mineral, round flavors to the whisky. Following fermentation, the wash is distilled through lantern-shaped copper-pot stills that were previously used at the Glenlivet Distillery. Due to the small size and shape of the stills, the whisky interacts with the copper, resulting in an incredibly pure and fruity flavor profile.

Matured in Spanish top quality oloroso sherry casks, this Kavalan Solist Sherry is bottled onsite, without any coloring or chill-filtration. Naturally smooth and rich, this whisky has a complex character, with clean notes, layers of dried fruit, nuttiness and spices with some marzipan and hints of vanilla.

Pick up your bottle today!
More Information

| | |
| --- | --- |
| Proof | 117.2 (58.6% ABV) |
| Distiller/Bottler Name | Kavalan Distillery |
| Size | 750mL |
Honeyed chai latte on the nose, notes of geranium, caramel coffee, nutty flavors, cinnamon crumble, followed by a round, lively, fruity medium-full body and a warming, complex, long salted raisins, saffron, caramelized apricot, chocolate, and crispy creme brulee finish.
Note: Not Eligible for Return
Out of stock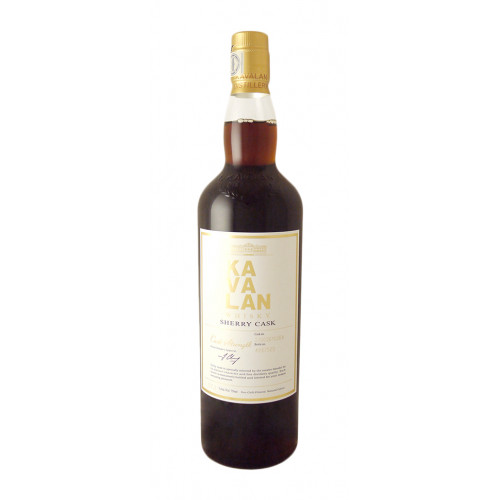 Limited Edition