Hazelburn 9 Year Old Barolo Wood
Another limited edition release from the Campbeltown Springbank distillery. With only 10,800 made during production in 1997, this robust whisky was aged for six years in ex-bourbon barrels, and three years in Barolo wine casks.
The Hazelburn Distillery was founded in Campbeltown, Scotland, once dubbed the whisky capital of the world. Hazelburn was once considered the largest distillery in Campbeltown. The distillery was in operation between approximately 1825 and 1925, and by 1886, Hazelburn employed 22 workers and produced 192,000 gallons of whisky per year. In 1920, Mitchell & Co, which also owned Springbank, bought out Hazelburn distillery, but was eventually shut down in 1926. In 1997, Springbank began production of a triple distilled single malt whisky. In 2005 Springbank distillery began bottling and releasing their 8YO Hazelburn single malt.

Hazelburn is one of three styles of hand crafted single malts made at the Springbank facility in Campbeltown. The majority of the distillery's production goes into the Springbank malt, with a smaller percentage going into the heavily peated Longrow, and the unique aforementioned Hazelburn. The Hazelburn single malt's unique flavor profile comes from its distinct production process. By using unpeated air-dried malt and a triple distillation method, the end product is light, fruity and subtle, making it highly receptive to the influence of its cask wood. This Hazelburn 9YO Barolo finish is a pure single malt, never chill-filtered, and never colored.

After a six year beauty sleep in first-fill ex-bourbon casks, this limited edition single malt was finished for three years in the Barolo-soaked casks. Barolo is a full-blooded Italian wine produced in the Piedmont region of northern Italy. Made from the Nebbiolo grape, Barolo is often described as one of Italy's greatest wines. This specialty un-peated whisky is bottled on-site at a shattering cask strength 57.9% ABV, there were only 10,800 bottles of Hazelburn 9 Year Old Barolo released worldwide.

Pick up a bottle of this limited release today!
More Information

| | |
| --- | --- |
| Proof | 116 (57.9% ABV) |
| Distiller/Bottler Name | Springbank Distillery |
| Size | 750mL |
The nose gives way to fragrant notes of sweet sugar, nuts and ripe fruits. The palate is peppery with flavors of light tannins, followed by dried fruits, raisins and subtle coconut. The finish is medium dry with notes of chocolate, vanilla, and stewed fruits.
Note: This product is not eligible for gift wrapping.
Note: Not Eligible for Return
Out of stock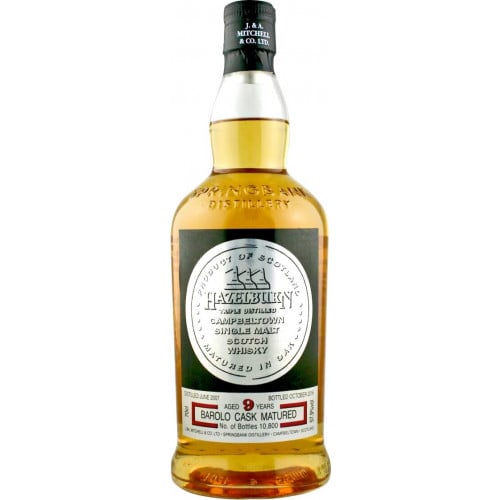 Limited Edition