Ardbeg Kelpie Single Malt Scotch Whisky
This special expression is a limited edition release, named for the legends of the sea around Ardbeg. The deep sea peaty single malt is aged in special Black Sea barrels.
The southernmost of the Inner Hebridean Scottish Isles, the island of Islay (pronounced EYE-lah) is only 240 square miles and home to just over 3,000 inhabitants. Still, the island is one of just five distilling regions in Scotland whose identity is protected by law.

Ardbeg Distillery, which is situated on the southern coast of Islay, was founded in 1815 by the MacDougall family. By 1886, nearly one-third of the population of Islay worked at the distillery and today, it stands as a testament to Scottish heritage and tradition.

Ardbeg Single Malt Scotch Whisky is made from malted barley, which is peated to approximately 50 phenol parts per million (in contrast, Leviathan II Whiskey is peated to 110 phenol ppm, while Octomore 5.1 is peated to 169 phenol ppm). Once the peated barley arrives at the distillery, it is milled and mashed with water sourced from Loch Uigeadail, which is situated approximately 3 miles away from the distillery. Then, the mashed barley is fermented in washbacks made of Oregon pine.

While wooden washbacks are more expensive and difficult to maintain as compared to stainless steel washbacks, they absorb a portion of the heat generated during the fermentation process and thus, create a lighter and more rich whisky. In addition, the wooden washbacks contribute estery, carbolic compounds to the whisky.

Following fermentation, which lasts for 55 hours, the wash is distilled twice, first through a copper-pot wash still and then again through a copper-pot spirit still. The spirit still is equipped with a purifier, which acts as small condenser and causes a portion of the evaporating vapors to be pumped back into the pot and then re-distilled. This purification process, which is rare in the industry, results in whisky that has a signature fresh and malty flavor.

Ardbeg Kelpie is a limited edition, single malt release, named for the legends of the sea around Ardbeg. "Its powerful aromas of oily peat, salty seaweed and tarry rope have been produced by virgin oak casks from the Black Sea, intermingled with the hallmark Ardbeg flavor profile. Waves of spicy black pepper give way to a delectable tide of bacon and dark chocolate" (Ardberg). Kelpie is non chill-filtered, and bottled at a solid strength of 46% ABV. The peaty single malt won a Silver Medal at the 2017 International Spirits Challenge.

Pick up a bottle of this special limited edition today!
More Information

| | |
| --- | --- |
| Proof | 92 (46% ABV) |
| Distiller/Bottler Name | Ardbeg Distillery |
| Size | 750mL |
Oily peat, dark chocolate, smoked fish, hints of seaweed, waves of spicy, black pepper and herbal notes on the nose. Classic Ardbeg notes, such as creamy coffee, smoked fudge and pine resin, hints of smoked coconut. On the palate are notes of pepper, Treacle toffee, Turkish coffee, smoky bacon and dark chocolate, peach fruit, hickory wood, clove oil and subtle black olives. The finish is long with deep, flavors of clove, tar and rich toffee.
Note: This product is not eligible for gift wrapping.
Note: Not Eligible for Return
Out of stock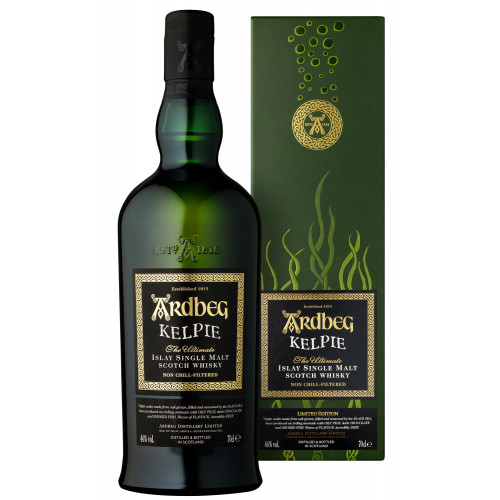 Limited Supply