Game of Thrones The Night's Watch Oban Bay Reserve
Brace for the coming of the White Walkers with the whisky of The Night's Watch. Inspired by Castle Black, this Oban single malt features the official oath for The Night's Watch.
After moving with their widowed mother to the small port city of Oban (situated in northwest Scotland), John and Hugh Stevenson took jobs building and repairing boats at the city's boatyard, a trade they had learned from their late father. In the 1790s, the brothers left their boat-making jobs and founded a brewery in the city. In 1794, they converted their brewery into Oban Distillery, one of the oldest and most prestigious distilleries in Scotland.

For nearly a century, Oban Distillery remained in the hands of the Stevenson family. In 1883, however, J. Walter Higgin purchased the distillery and began renovations. While Higgin renovated both the distillery's equipment and structure, he did so piecemeal in order to ensure that the distillery was able to meet the uninterrupted demand for its whisky. Today, over 100 years later, Oban Distillery remains substantially the same as it was after Higgin's refurbishment.

Oban single malt whiskies are made using 100% barley, which is malted to the distillery's exact specifications. After the barley is malted, it is partially germinated and gently dried over a peat kiln, giving it a slightly smoky, malty flavor profile. Then, the malted barley is mashed and fermented before being twice-distilled through Oban's lantern-shaped copper-pot stills. The stills are among the smallest in Scotland, and limit Oban's production to just 650,000 liters of whisky annually.

In honor of the final season of the TV series, Game of Thrones, HBO has teamed up with spirits giant DIAGEO to release a limited-edition series of single malt scotch whiskies, inspired by the critically-acclaimed show. Each rare scotch represents one of the iconic Houses of Westeros, including the Night's Watch. An authentic taste of the Seven Kingdoms, this iconic Game of Thrones collectible whisky is distilled by Oban Distillery.

The Oban distillery sits beneath the steep cliff that overlooks the bay in the frontier between the west Highlands and the Islands of Scotland, separating land and sea, just as Castle Black, home of The Night's Watch, sits between Westeros and the lands beyond The Wall. The liquid's richness is balanced with a woody, spicy dryness that The Night's Watch could enjoy even on the coldest of nights.

Pick up your bottle today!
More Information

| | |
| --- | --- |
| Proof | 86 (43% ABV) |
| Distiller/Bottler Name | Oban Distillery |
| Size | 750mL |
Deep, rich notes of cherry pie and candied citrus peel blossom on the palate, drifting into a wonderful crème caramel with just a hint of charred oak.
Note: Not Eligible for Return
Out of stock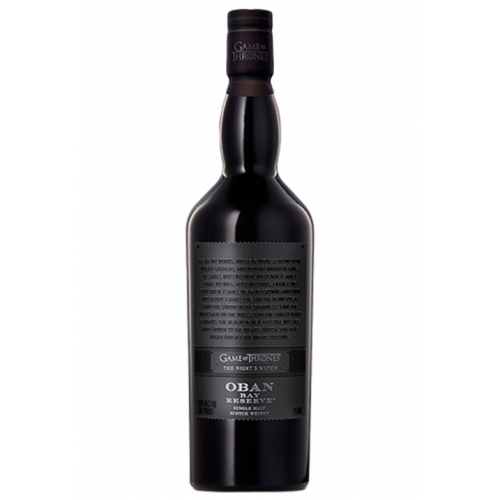 Limited Edition