Bruichladdich Port Charlotte PC6 Cuairt-Beatha
Aged for 6 years in ex-bourbon oak and bottled at 123.2 proof, this is a spectacularly peaty and malty expression from the heavily peated Port Charlotte range. A limited release of 18,000 bottles.
Inspired by an entrepreneurial flair and a youthful enthusiasm, the Harvey brothers began construction of the
Bruichladdich
(pronounced brook-laddie or broo-lah-dee) Distillery in 1881. For five decades, the brothers — descendants of a dynastic whisky family — owned and operated the distillery. Following the death of William Harvey in 1936, however, the distillery changed hands a number of times and was shut down in 1994, seemingly forever. In 2000, the distillery was purchased by a group of investors led by Mark Reynier and Murray McDavid. Together, the pair convinced Jim McEwan, who had been working at Bowmore Distillery since the age of 15, to join Bruichladdich as master distiller.
Today, McEwan's incredible work ethic and creative vision have made Bruichladdich Distillery one of the most exciting and innovative distilleries in Scotland. Originally a Victorian distillery, it remained loyal to its roots to this day when most of the original Harvey machinery is still in use. No computers are used in the production of Bruichladdish single malts or artisanal gins.
Bruichladdich Port Charlotte PC6 Cuairt-Beatha is named after the phrase The Walk Of Life to honor the journey this dram has made. The Port Charlotte series is a range of Islay single malt scotch whiskies, which are all heavily peated to 40ppm and represent Bruichladdich's exploration of their peated legacy. A limited release expression with only 18,000 bottles produced, Port Charlotte PC6 Cuairt-Beatha is one year older than their PC5 release. Aged for 6 years in ex-bourbon oak, you'll notice the effect of one extra year spent beside the Atlantic Ocean compared to their inaugural version. Bottled at 123.2 proof, the nose is delightfully peaty, complemented with notes of spice, vanilla and biscuits. The palate further develops the unmistakable peat, which is balanced by sweet flavors. A spectacular example of a peaty single malt.
Grab your peaty single malt today!
More Information

| | |
| --- | --- |
| Proof | 123.2 (61.6% ABV) |
| Distiller/Bottler Name | Bruichladdich Distillery |
| Size | 750mL |
Beautiful sorrel chestnut hue. Peaty and malty aromas are balanced by citrus, spice and vanilla. The palate is complex and offers more peaty and malty flavors as well as orchard fruit, spice and vanilla. The finish is long, peaty, smoky and sweet.
Note: Not Eligible for Return
Out of stock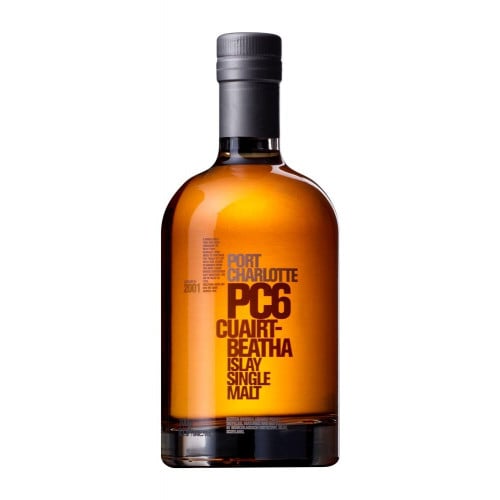 Limited Edition