Bruichladdich Octomore 11.3 Single Malt Scotch Whisky
A special release, this expression is crafted with Octomore Islay barley is a "single field, single vintage single malt". Crafted with barley that was planted a mere 2 miles from the distillery, it's aged 5 years for a surprisingly delicate, floral, and fruity character where the peat smoke never gets in the way of its complexity.
Have a
private virtual tasting masterclass
with Head Distiller
Adam Hannett,
the master behind the legendary
Bruichladdich
series.
Register for Bruichladdich masterclasses here!
Inspired by an entrepreneurial flair and a youthful enthusiasm, the Harvey brothers began construction of the Bruichladdich (pronounced brook-laddie or broo-lah-dee) Distillery in 1881. The brothers were descendants of a dynastic whisky family — their ancestors had already owned distilleries in Scotland for over a century. Today, Bruichladdich Distillery (Bruichladdich means "rocky shore" in ancient Gaelic) remains situated on the shores of Loch Indaal on the island of Islay, and continues to use much of the original equipment installed by the Harvey brothers to craft a range of single malt whiskies that are trickle distilled, matured, and bottled on Islay.

The modern Bruichladdich Distillery is known as the most experimental and adventurous of the Scottish distilleries, implementing revolutionary, modern interpretations of time-honored ideas and challenging the comfortable conventions of a whisky establishment. The Octomore series is the embodiment of this philosophy. Rejecting the onset of modern automation and homogenization, Bruichladdich's Head Distiller, Adam Hannett, only considers production methods that place the quality of liquid above everything else.

Both Octomore 11.1 and 11.3 are malted to an extremely high 100+ PPM. What sets them apart is the barley character from different regions. The 11.3 was distilled in 2014 from 100% Octomore Farm concerto barley and bottled in 2019 at 123.4 proof without chill filtering or added coloring. This barley was grown by farmer James Brown just 2 miles from the distillery, where the specific climatic conditions result in a unique tasting grain that differs from its mainland counterparts. "The depth of flavour here is intense, with a huge malty character to the fore. The character of the spirit is floral and fruity on the nose, and on the palate, the first sensation is of barley flour sweetness and smoked orange peel," says Hannett of the expression that has spent 5 years in first-fill American whiskey casks and is limited to 18,000 bottles.

Grab one of these limited-edition bottles today!

More Information

| | |
| --- | --- |
| Proof | 123.4 (61.7% ABV) |
| Distiller/Bottler Name | Bruichladdich Distillery |
| Size | 750mL |
The nose opens bright with floral, citrus, honey, and vanilla notes. The peat smoke is ever present in the background without being overpowering. Honey sweetness is on the palate along with fruit, apricot jam, and orange blossoms, the smoke providing a backdrop once again, inching its way towards the foreground during the long and complex finish.
Note: Not Eligible for Return
Out of stock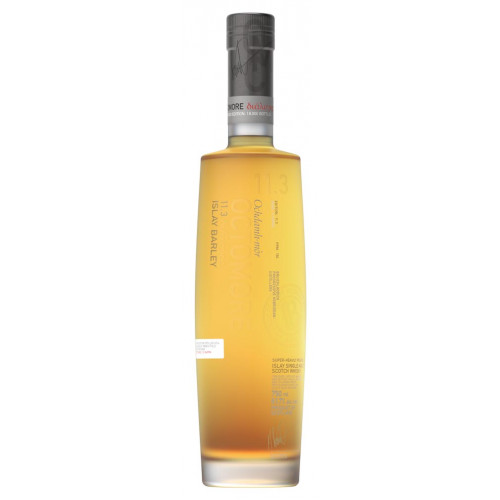 New Release