Bowmore 16 Year Old 1990 Sherry Matured Scotch Whisky
Distilled in 1990, this Islay single malt has spent 16 years in oloroso sherry casks before being bottled in 2006 at a cask strength of 107.6 proof.
Situated along the shores of Long Indaal, Bowmore Distillery was founded in 1779 by John Simpson. The distillery is the oldest distillery on the island of Islay and the second oldest in Scotland. Its unique location — Long Indaal suffers from steady gusts of wind and strong eddies that make its waters especially hazardous — plays an integral part in defining the lush, rich character of the Single Malt Whisky it produces.

Bowmore's Single Malt Whiskies are made from barley that has been expertly cultivated in the rolling hills of Scotland. Once the barley has been harvested, it is malted and peated at the distillery — Bowmore remains one of the few Scottish distilleries that continues to hand-turn, malt, and peat its own barley. Unlike some other distilleries on Islay, however, the drying process is much shorter at Bowmore — only 15 hours — and utilizes only half as much peat, resulting in a Whisky with a robust yet still mild smoky flavor.

After the barley has been malted and peated, it is mashed and fermented with pure water drawn from the Laggan River. The water has spent two millennia percolating in the ancient rock formations and peat bogs of Islay, giving Bowmore Whiskey its distinctive, chewy body and subtle mouthfeel. Then, the fermented barley is twice distilled through Bowmore's copper-pot stills before being left to mature in the distillery's seaside, underground maturation vaults.

Distilled in 1990, this Bowmore 16-year-old is a limited-edition whisky that was bottled in 2006 at a cask strength of 107.6 proof. 39 oloroso sherry casks were patiently aged in Bowmore's underground vaults, eventually finding their way into this balanced, warm, rich, and smoky expression.

Get your bottle of this limited-edition whisky today!
More Information

| | |
| --- | --- |
| Proof | 107.6 (53.8% ABV) |
| Distiller/Bottler Name | Bowmore Distillery |
| Size | 750mL |
The light teak whisky is rich and complex with aromas of dark chocolate, raisin, figs, and signature Bowmore smokiness. The palate is warm and rich with fruit cake, hints of brine, and spice, culminating in a long and elegant finish.
Note: Not Eligible for Return
Out of stock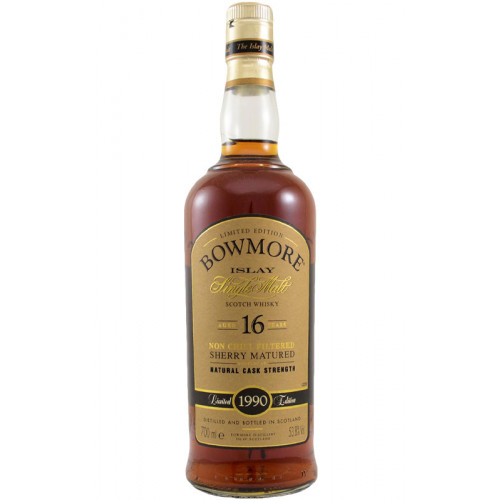 Limited Edition