Adelphi Selection Glen Garioch 21 Year Old Single Malt Scotch Whisky
Adelphi whiskies are both rare and sought-after - these very special casks are so rare that, on average, Adelphi accepts a mere 4% that it is offered.
Situated in the village of Old Meldrum in the Scottish Highlands, the Glen Garioch (pronounced Glen Geery) Distillery was founded in 1797 by John and Alexander Manson. The distillery is one of the oldest in Scotland, and takes its name from the Valley of the Garioch, which is situated adjacent to the distillery and is known for producing the finest barley in all of Scotland. The distillery — the most easterly in Scotland — enjoys the temperate climate and cool breeze that are ideal for the production and maturation of whisky.

Glen Garioch Single Malt Scotch Whisky is made from barley harvested from the Valley of the Garioch. After the barley has been harvested, it is mashed and fermented with water drawn from the Silent Spring. In 1968, production of whisky at Glen Garioch Distillery was suspended as the area surrounding the distillery experienced a severe drought. Four years later, an incredibly pure spring was discovered upon a neighboring farm. The Silent Spring, as it came to be known, could neither be seen nor heard without modern instruments, and has been Glen Garioch's water source for over four decades. Once the barley has been fermented, it is distilled twice — first through Glen Garioch copper-pot wash still and then again through its spirit still.

This Adelphi Selection is non chill filtered, and bottled without any additives. Each bottling is very limited, each cask yielding anywhere between 100 and 700 bottles. "Identifying only the very best casks allows us to offer a range of styles and regions with our panel of professional 'noses' chaired by world authority on Scotch whisky and Master of the Quaich, Charles MacLean" (producer). This beautiful single malt has rich notes of chocolate and buttery caramel.

Pick up your bottle today!
More Information

| | |
| --- | --- |
| Proof | 117.2 (58.6% ABV) |
| Distiller/Bottler Name | Glen Garioch Distillery |
| Size | 750mL |
Leather, oak, creamsicle and bitter chocolate on the nose. The palate is rich with brandy, syrup, dried fruits, oak, and leather. The finish is long and dynamic with coffee beans, buttery caramel, and spice.§§
Note: Not Eligible for Return
Out of stock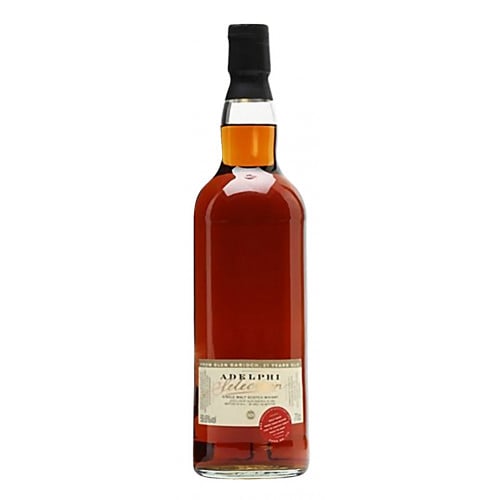 Limited Edition