Wu Liang Ye Crystal Baijiu
This 104-proof baijiu is distilled from 5 cereals: 36% sorghum, 22% rice, 18% glutinous rice, 16% wheat, and 16% corn. The recipe dates back more than 600 years to the Ming Dynasty.
Baijiu ("white spirits" in Mandarin) is a clear spirit that originated in China. The clear liquid usually has a proof level between 70 and 120 and is commonly produced by distilling fermented sorghum or other grains that include rice, wheat, and barley. An important part of the process is the qū, a dried fermentation starter that is used during fermentation and varies from distillery to distillery. It makes the taste and scent of every baijiu highly specific to the place it was created. Qū also allows Chinese distillers to ferment and distill grains in a solid state, which creates incredible complexity of flavor. There are nearly a dozen distinctive regional styles of baijiu, but there are four major styles: strong aroma, light aroma, sauce aroma, and rice aroma. It's the world's most-consumed spirit, selling 10.8 billion liters in 2018.

The Wuliangye Company Group is situated on the bank of the Minjiang River in the Sichuan Province of South-West China. Wu Liang Ye is a Chinese baijiu with roots going back to the Ming Dynasty. Today, the spirit is still produced traditionally, albeit with modern, eco-friendly techniques. The spirit has garnered more than 100 international awards through the years, starting with a gold prize at the Panama International Exposition in 1915. The techniques employed in its production process were recognized as a national heritage in 2008.

Wu Liang Ye Crystal is the flagship baijiu that is bottled at 104 proof. Crafted in cellars that are over 6 centuries old, it's distilled from 5 cereals: 36% sorghum, 22% rice, 18% glutinous rice, 16% wheat, and 16% corn. It's fermented with the help of Baobaqu, a yeast starter. The crystal-clear liquid features a floral nose with hints of nuts and a refreshingly sweet and smooth palate.

Grab your bottle of this baijiu today!

More Information

| | |
| --- | --- |
| Proof | 104 (52% ABV) |
| Distiller/Bottler Name | Undisclosed |
| Size | 750mL |
The crystal-clear spirit has a pure and elegant nose with floral aromas and hints of pepper and nuttiness. It's pleasantly sweet on the palate with pineapple and licorice notes, culminating in a crisp and smooth finish.
Note: Not Eligible for Return
Out of stock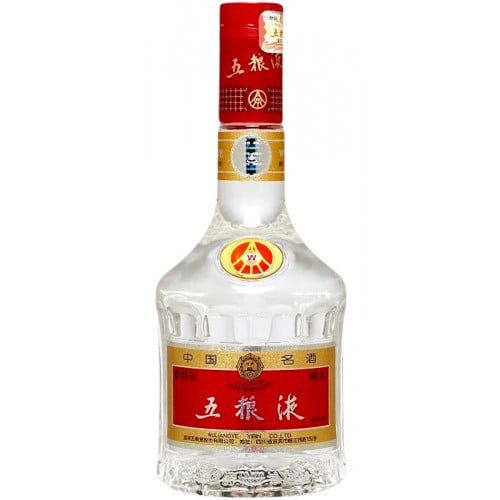 Limited Supply