Widow Jane Caskers Single Barrel 12 Year Old Bourbon 2018
This special Barrel #97 of Widow Jane's 12 year old private barrel bourbon is a special Caskers exclusive offering of a limited run of only 140 bottles in total.
Some say that Widow Jane 12 represents a deeper, darker side to the Widow. This 99 proof single barrel Kentucky Bourbon is selected from some of the Widow Jane's most sought after casks that show special promise. These Private Barrels are hand-selected by our team in Red Hook, Brooklyn, which is where all Widow Jane's whiskey continues to age before the final steps of non-chill filtration, proofing with their signature New York limestone water, bottling and finally, hand-labeling.

Widow Jane is all about high-intensity, flavorful and well-aged whiskeys cut with hard, sweet limestone-filtered water that's known to make great whisk(e)y, from Kentucky to Scotland. Add to that a non-chill filtration and NYC attitude and you get a whiskey that's unadulterated and robust in mouthfeel.

When the Widow Jane team set out to produce their own whiskey they wanted to offer something that was truly flavor forward, bold and rich with character, but most importantly had a taste of New York. All Widow Jane whiskeys are proofed with pure limestone water from the legendary Rosendale Mines of New York, just 100 miles north from Red Hook, Brooklyn. It was limestone from this mine which was used to build the foundation of some of New York's greatest structures: the gargantuan caissons of the Brooklyn Bridge, the Empire State Building and the 27,000 ton pedestal to the Statue of Liberty.

This self-renewing source of water is naturally filtered through limestone and collects in the massive underground caverns. Comprised of an unusually high mineral content that enhances the natural flavors in Widow Jane spirits, this water is their fingerprint and a signature ingredient. And the legend surrounding these mines is what gives Widow Jane whiskey its name.

The result is some of the finest aged Bourbon you will find, and a tasting experience complete with beautiful aromas, a smooth and creamy mouthfeel and an ultra-long finish.

Both urban & urbane, Widow Jane is New York's very own. The signature whiskey of the world's most magnificent and maddening metropolis.

Make sure to pick up your bottle today!
More Information

| | |
| --- | --- |
| Proof | 99 (49.5% ABV) |
| Distiller/Bottler Name | Widow Jane |
| Size | 750mL |
AROMA
Dark woods and molasses.
TASTE
Black cherry, mineral oil with notes of tobacco.
MID-PALATE
Sweet spices.
FINISH
Thick cream with burnt oak.
AFTER GLOW
Concentrated tannin with lingering notes of leather.
Note: This product is not eligible for gift wrapping.
Note: Not Eligible for Return
Out of stock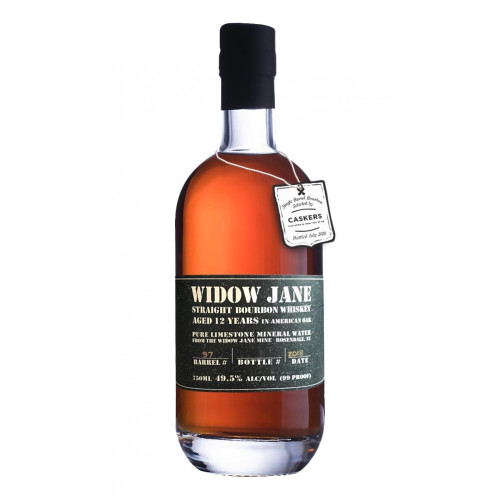 Exclusive