Hibiki 17 Year Old Japanese Whisky
Aged for 17 years, this whisky was named the "Best Japanese Blended Whisky" at the World Whiskies Awards.
In February 1899, Shinjiro Torii opened a store in Osaka, Japan that traded imported wines. Within a decade, Torii began producing his own sweet grape wine called Akadama Port Wine, which became wildly popular throughout Japan. In 1923, Torri — fascinated by whisky his entire life — decided to expand his business and began construction of the Yamazaki Distillery, Japan's first-ever whisky distillery.

Although inspired by traditional Scottish distilleries, Torii envisioned a uniquely Japanese approach to whisky and chose a location for his distillery that offered a climate and terrain that were completely different to those of Scotland. Nestled on the periphery of Kyoto, Yamazaki Distillery is situated at the confluence of three rivers — the Katsura, Uji and Kizu — that provide the warm, damp environment ideal for the production and maturation of whisky.

Fifty years after the construction of Yamazaki Distillery, Keizo Saji inherited his father's vision and constructed Suntory's second distillery. Situated amidst the deep forests of Mount Kaikomagatake in Japan's southern Alps, the Hakushu Distillery enjoys a unique microclimate as a result of being surrounded by nearly 6,000 varieties of plants and thousand-year-old granite rocks.

Hibiki 17 Year Old Japanese Whisky is crafted from a blend of over 30 unique whiskies produced at both Yamazaki Distillery and Hakushu Distillery, including some that have matured in previously-used Umeshu casks (Umeshu casks are specially coopered casks that are used in the maturation of plum liqueur). "This is all done by hand — the traditional way," says Osamu Abe, the manager of Yamazaki Distillery, referring to the cooperage taking place at the distillery. "This is called yagura — craftsmanship. You must watch and listen to how they're made. In Japan, we say "˜use all 5 senses.' Of course we learn from others, but our own senses are key."

After each whisky used to craft Hibiki Whisky has matured for a minimum of 17 years, the whisky is brought to proof using pure Japanese spring water. Hibiki, which translates to "resonance" in English, echos the unique environment in which the whisky is distilled and matured. Hibiki 17 has an aroma of peaches, melons, apricots and lemon leaves that gives to notes of black cherry, toffee vanilla and oak on the palate. The finish sweet and fruity, with a touch of lychee.

Hibiki 17 Year earned the Gold Medal at the International Spirits Competition in 2012 and 2013. In addition, it was named the "Best Japanese Blended Whisky" at the World Whiskies Awards.

Pick up a bottle today!
More Information

| | |
| --- | --- |
| Proof | 86 (43% ABV) |
| Distiller/Bottler Name | Suntory |
| Size | 750mL |
Aroma of fruits, particularly pineapples and plums, with hints of honey and custard. Soft, mellow flavor profile that has notes of caramel, honeyed oak and apricots. Finish, which is elegant and complex, has touches of spicy wood, dried fruits and sour candy.
Note: This product is not eligible for gift wrapping.
Note: Not Eligible for Return
Out of stock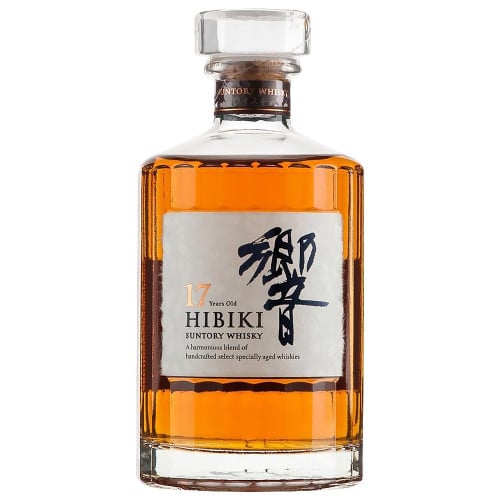 Limited Supply