St. George Single Malt Whiskey Lot 14
Made from roasted and smoked two-row barley and aged for up to 15 years, this single malt was named the Craft Whiskey of the Year by Whisky Advocate.
Founded in 1982 by German-born Jörg Rupf, St. George Spirits is one of the oldest craft distilleries in the United States. The distillery, housed in an old World War II airplane hangar on a former naval base on the edge of San Francisco, is home to Lance Winters, mad scientist and St. George's master distiller.

Winters, who is widely-known for experimenting with different types of spirits, has a laboratory dominated by a 10-liter test still in addition to the glass beakers and graduated cylinders that cover every inch of counterspace. Next to the dusty chalkboards caked with equations for the conversion of sugar to alcohol and intricate diagrams of molecular structures are bottles of experimental whiskies, vodkas and even an aging balsamic vinegar (it's 14 years old already).

St. George Single Malt Whiskey is the realization of Winters' dream to make an elegant and expressive American single malt whiskey. After sourcing two-row barley (traditionally used in English ales), Winters roasts a portion of the barley at different roast levels in order elicit rich aromas of hazelnut and cocoa. He smokes the remainder of they barely over beech and alder, adding complexity and character to the whiskey. After mashing and fermenting the grains, the wort is distilled through a traditional, 63-gallon copper-pot still — "it's an artisanal process that results in a better-tasting product," says Winters. After distillation, the whiskey is aged in a number of different types of wood, including refill bourbon, French oak, sherry and port casks.

Together with distiller Dave Smith, Winters drew from deep into the far corners of St. George's whiskey library in order to craft the 14th lot of St. George Single Malt Whiskey. The whiskey is crafted from barrels ranging between four and fifteen years old, and is brought to proof and bottled by hand.

St. George Single Malt Whiskey Lot 14 has an aroma of milk chocolate, roasted nuts and cocoa that gives way to notes of honeydew, apricots, citrus and cinnamon on the palate. The finish is lush and ripe, with touches of plums, berries, hazelnuts and nutella.

St. George Single Malt was called "phenomenal" by the Sour Mash Manifesto, and possibly the "best U.S. Single Malt available today" by 1001 Whiskies to Try Before You Die.

We have only a handful of bottles available. Pick one up today!
More Information

| | |
| --- | --- |
| Proof | 86 Proof (43% ABV) |
| Distiller/Bottler Name | St. George Spirits |
| Size | 750mL |
Dry palate with notes of hops, breakfast tea, vanilla pods and caramel.
Note: This product is not eligible for gift wrapping.
Note: Not Eligible for Return
Out of stock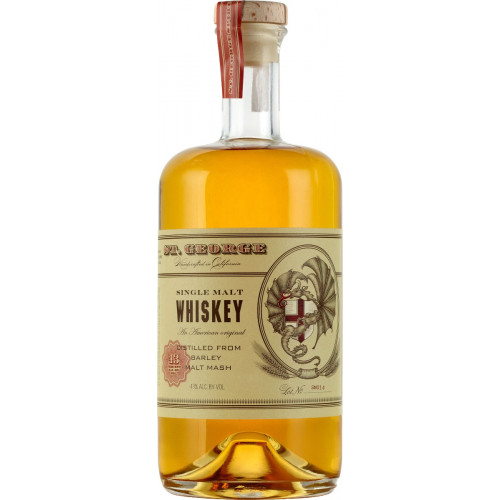 Limited Edition