Seven Stills Rorschach Test Whiskey
Based on the Imperial Pastry Stout that was brewed in collaboration with Moksa Brewing Co., this whiskey is crafted from the finished barrel-aged beer.

*Buy 3 bottles for $99.99. Discount automatically applied at checkout!
Tim Obert founded the
Seven Stills
Brewery & Distillery with his friend after they graduated from college together. At first, the pair did everything with their own two pairs of hands, but by 2016 the operation had grown considerably, resulting in them opening an 18.500 square-foot brewery & distillery in Mission Bay, San Francisco by 2017 with the help of some crowdfunding and involving their fans in the process.
With the name paying tribute to the Seven Hills of San Francisco, they produce craft beer as well as whiskey. The twist here is that their whiskey is made from finished craft beer, a process that has been in use in Germany for centuries but is still relatively new to America. While they mostly use their own beer, they often collaborate with various breweries. Each whiskey is crafted using a different style of beer, making for some truly unique expressions.
The Rorschach Test Whiskey started as a barrel-aged imperial stout beer that was brewed in collaboration with Moksa Brewing Co., a small and independent craft brewery from Rocklin, California. The Imperial Pastry Stout was finished with Andytown coffee, cacao nibs, coconut, and vanilla beans. The beer was then distilled at Seven Stills and aged in new American oak, producing 540 bottles. With the dark malt at its core, it has additional notes of chocolate and coffee.
Get your bottle today!
More Information

| | |
| --- | --- |
| Proof | 94 (47% ABV) |
| Distiller/Bottler Name | Seven Stills |
| Size | 375mL |
The extremely rich whiskey has plenty of sweetness and complex notes. Dark malt is at its core with chocolate, coffee, vanilla, and coconut all in there. Nicely viscous, it finishes with coconut and dark coffee notes.
Note: Not Eligible for Return
Out of stock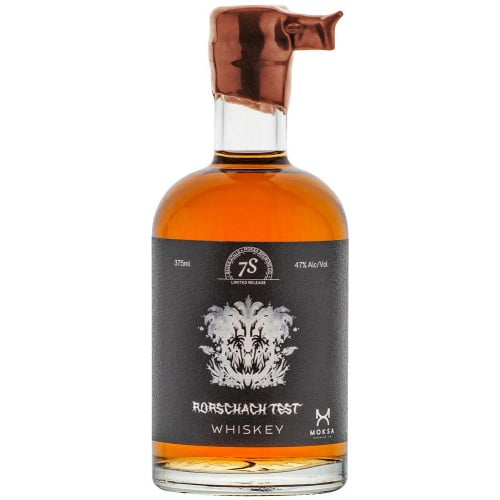 Special Offer