Sagamore Spirit Reserve Moscatel Barrel Finished Rye Whiskey
This Moscatel Barrel Finished Straight Rye Whiskey earned 96 points from The Tasting Panel.
In the early 1800s, Maryland farmers were known to use rye as a cover crop. Its fibrous and sturdy nature kept soil healthy, protecting the land from erosion, not to mention it made a great quality whiskey. Rye whiskey production also proved to be more profitable than selling the raw grain. After the spring harvest, the grains were distilled, and rye whiskey became the unofficial spirit of Maryland.
Sagamore
Spirit is reminiscent of these early days of Maryland distilling, paying homage to this era with a uniquely crafted spirit. Maryland rye whiskeys are historically smoother. In their early stages, the majority of production went into blends for other companies; they currently own their private distillery outfitted with a brand new visitor center in Maryland.
Sagamore produces a range of four all American Rye Whiskies. Historically, Maryland Rye Whiskey is a much smoother whiskey than its Pennsylvanian and Kentucky counterparts, harboring creamy tastes and textures from the calcium rich waters of Maryland limestone.
This Sagamore rye is meticulously crafted. Each batch is scrutinizingly analyzed for consistency in aroma, flavor, and texture. The spirit is crafted from two distinct mash bills of rye, corn and malted barley, that yields a signature bold flavor profile. The first is high in rye, with a bit of corn and malted barley, a ratio that yields flavors like baking spices and fruit. In the second mash bill, rye plays second fiddle, allowing the corn and malted barely to become more prominent. This ratio yields smoother and sweeter spirit. The two recipes are distilled, and aged separately, creating a bold, approachable rye.
The spirit is crafted from water that flows from a Spring House, built in 1909, at Sagamore Farm. Fed from a limestone aquifer, this water is pure and naturally filtered; a crisp, cool, calcium-rich liquid that is perfect for making whiskey.
Expertly analyzed by Sagamore distillers to ensure each batch of cooked mash reaches the correct consistency, the proprietary mash is fermented in nine 6,500 gallon fermentation tanks for anywhere from three to five days, yielding Distillers Beer of 8% alcohol. The beer is then distilled through their 40-foot-mirrored finished copper column still.
This Sagamore Spirit Rye Whiskey Reserve Moscatel Barrel Finished is Sagamore's award-winning Straight Rye Whiskey finished in moscatel wine barrels, creating a bold Moscatel Barrel Finished Whiskey. "The taste reveals a surprising blend of fruit and spice, with an extraordinary aroma of gentle sweetness. Our unique spring-fed water is the finale to this whiskey, creating a spirit unrestrained by the rules" (producer).
Pick up your bottle today!
More Information

| | |
| --- | --- |
| Proof | 101.2 (50.6% ABV) |
| Distiller/Bottler Name | Sagamore Spirit Distillery |
| Size | 750mL |
Fruity scents with a hint of spice on the nose. The palate is a rich blend of dark fruits and a subtle sweetness. The finish is lingering with hints of dry plum and honey.
Note: Not Eligible for Return
Out of stock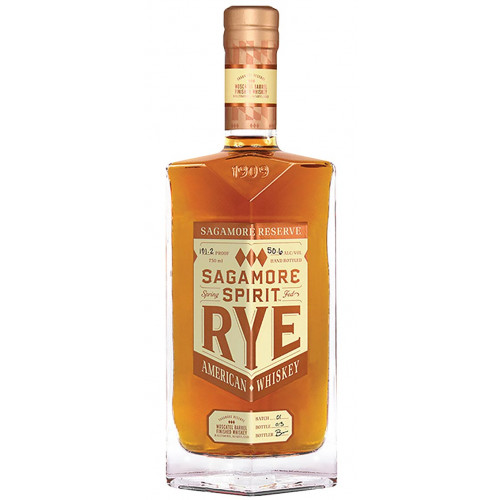 Free Shipping