Rebel Bourbon Cognac Cask Finish Bourbon Whiskey
A limited-edition cognac-finished bourbon from the pioneers of the wheated bourbon mash bill. Bottled at 90 proof, expect a sweet, raisin-forward palate.
Rebel
Bourbon's history dates back to 1849 when William Larue Weller of the W. L. Weller & Sons Company invented the famous recipe that pioneered a wheat-based mash bill to replace rye. This very recipe represented a base for many famous bourbons that were later produced at the Stitzel-Weller distillery. In 1936, the "Rebel Yell" brand was officially registered as a brand of Kentucky bourbon by a former Louisville mayor Charles F. Farnsley. At the time, only limited batches of bourbon were available exclusively for distribution in the southern United States.
In the 1980's, this changed when Rebel Bourbon was acquired by LUXCO Spirited Brands. This was also the decade when Rebel Bourbon, at the time still known under the Rebel Yell brand, became popular with rock stars such as Keith Richards, introducing the bourbon to Billy Idol who later dedicated a whole song to the Rebel Yell bottle. Throughout the years, Rebel Bourbon has remained loyal to its rebellious roots and today, more than 150 years later, it is produced at Lux Row Distillers in Bardstown, Kentucky, the birthplace of bourbon – bringing together its heritage and modern tastes.
Beginning with Rebel Bourbon's famous Wheated Straight Kentucky recipe, Rebel Bourbon Cognac Cask Finish Bourbon Whiskey is matured in white oak charred barrels for 4 years and then finished in Cognac French oak casks for about 6 months. Bottled at 90 proof, this cognac-finished bourbon features a sweet flavor profile, full of delicious raisin notes, caramel and toffee. There were only 6,000 bottles produced of this limited-edition dram.
Get 1 of 6,000 bottles of this cognac-finished bourbon!
More Information

| | |
| --- | --- |
| Proof | 90 (45% ABV) |
| Distiller/Bottler Name | Lux Row Distillers |
| Size | 750mL |
Deep mahogany hue. The nose is complex with notes of toasted oak, caramel, dark berries and citrus peel leading the way. The palate is sweet with caramel and toffee as well as raisin notes. There's nutty flavors and charred oak in the background. The finish is lingering with caramel, dried fruit and spice notes.
Note: Not Eligible for Return
Out of stock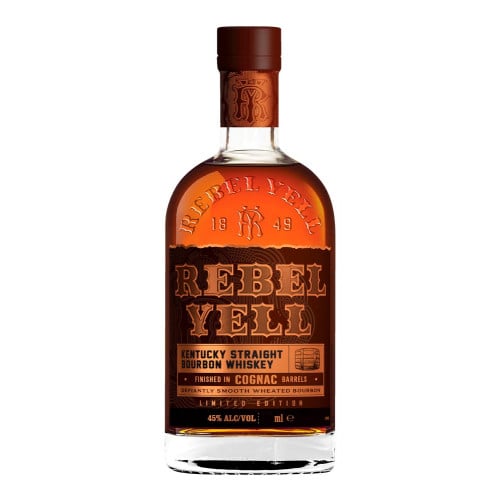 Limited Edition