Old Fitzgerald 9 Year Old Bottled in Bond Straight Bourbon Whiskey
A tribute to the original 1950's Old Fitzgerald dazzling diamond decanter, this unique bottled-in-bond is a stunning vintage homage.
According to legend, John E. Fitzgerald founded a distillery along the banks of the Kentucky River shortly after the Civil War ended. Fitzgerald began distilling bourbon and selling it to passengers aboard the trains and steamships that passed through town. Shortly thereafter, Fitzgerald sold his brand "Old Fitzgerald Bourbon" to Julian P. "Pappy" Van Winkle for $10,000, a small fortune at the time. Pappy moved production of Old Fitz to his distillery, where it became one of the most famous bourbons in the world.

But if you ask Sally Van Winkle (Pappy's granddaughter), the story of John E. Fitzgerald and Old Fitz Bourbon is slightly more complicated and certainly more interesting. In 1999, Van Winkle revealed that Fitzgerald was not the man nor the distiller he claimed to be — he was, in fact, a bonded treasury agent. At the time, the Treasury Department was tasked with collecting taxes levied on spirits and as such, bonded treasury agents were the only people legally allowed to carry the keys to barrel storage warehouses.

Fitzgerald did have a discerning palate for fine bourbon and would use his warehouse keys to pilfer the best barrels of bourbon as they aged. The barrels, which became known as "Fitzgerald barrels," and the brand were immortalized when Pappy Van Winkle named Old Fitzgerald bourbon after the treasury agent and added a "Whisper of Wheat" to his bourbon's recipe. By using wheat rather than rye as the secondary grain in the bourbon's mashbill, Pappy imparted a rounder, softer flavor profile in Old Fitz as compared to other bourbons at the time.

Old Fitzgerald Bourbon is a historic brand, dating back 120 years, widely regarded for its award-winning whiskey and traditions of extra-aging. Today, the brand is stewarded by Master Distillers Parker and Craig Beam who have preserved the award-winning, traditional techniques, while contributing seven generations of Bourbon distilling expertise.

A tribute to the original 1950's Old Fitzgerald dazzling diamond decanter, this unique bottle features a vintage-inspired label donning the time-honored symbol of a key, representing the brand's slogan since the 1940's: "Your key to hospitality." Kentucky's state seal and a prominent brand banner replicate a pre-Prohibition label.

Pick up your bottle today!
More Information

| | |
| --- | --- |
| Proof | 100 (50% ABV) |
| Distiller/Bottler Name | Old Fitzgerald Distillery |
| Size | 750mL |
Notes of cinnamon, oak, brown sugar and nuttiness followed by spiced aromas on the nose. The palate opens with light vanilla and slight caramel, followed by oaky tannins raisins, subtle lavender, honeyed notes, and subtle toffee. The finish is short sweet and to the point with slight oak, chocolate and baking spices.
Note: Not Eligible for Return
Out of stock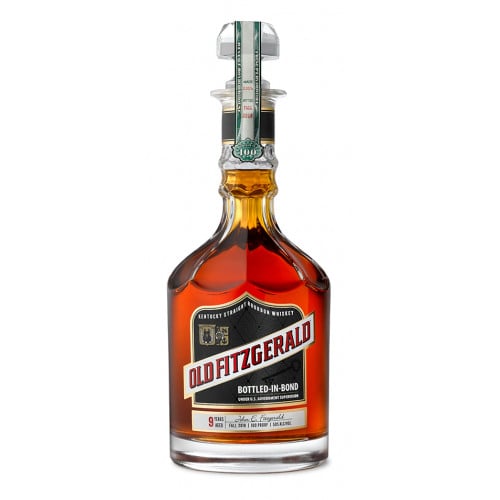 Limited Supply