Laphroaig Triple Wood Single Malt Scotch Whisky
Matured in three unique types of casks, this whisky earned a score of 94 points from Whisky Advocate.
In 1815, Donald and Alexander Johnston began leasing nearly 1,000 acres of land on the island of Islay. Their intent was to use the land to raise and sell cattle and as a result, they began growing barley to be used as feed for their livestock. Following a particularly bountiful harvest, the brothers distilled the excess grains they had grown into whisky, and sold it to the inhabitants of the island. Soon thereafter, the brothers found it more profitable to distill whisky rather than raise cattle, and Laphroaig (pronounced La-froyg) Distillery was born.

For over a century, the distillery would remain in the hands of one of Johnston's descendants. In 1954, however, Ian Hunter passed away childless and bequeathed the distillery to Bessie Williamson, a secretary that had been working at the distillery for two decades. Hunter was incredibly protective of the distillery — while he slowly revealed its secrets to Williamson after she had earned his trust, Hunter prevented a cooper who was employed at the distillery from publishing his memoirs because they described the workings of the distillery in too great a detail.

Laphroaig Single Malt Whisky is one of the most flavorful and intense whiskies made anywhere in the world. During Prohibition, it was one of the few whiskies still legally imported into the United States, as it was considered a medicinal spirit. Laphroaig Single Malt is made from the finest Scottish barley, which is malted at the distillery and smoked over a peat flame. Unlike other distilleries which source peat from the Scottish mainland, the peat used to smoke Laphroaig barley is made from the heather, mosses and lichens of Islay and adds a distinct iodine-like flavor to the whisky. After the barley has been malted and peated, it is fermented before being twice-distilled through Laphroaig's copper-pot stills. The unique stills have an usually flat base and flat surfaces, which contributes to the overall intensity of the whisky.

Following distillation, Laphroaig Triple Wood Single Malt Scotch Whisky is matured in three different types of casks. First, the whisky is matured in ex-bourbon casks composed of American oak. These casks contribute traditional notes of honey, cinnamon and vanilla to the whisky. After its initial maturation, the whisky is double-barreled in quarter casks. Quarter casks were used in the 19th century to transport whisky via horse or mule (the animals could not carry the weight of traditional casks). As a result of their small size, the quarter casks add bold notes of oak and woody spices to the whisky. Finally, Laphroaig Triple Wood is matured in European oak casks that were previously used to mature Oloroso Sherry. The sherry casks contribute a rounded sweetness to the whisky, along with hints of red fruits, citrus and leather. Following maturation, the whisky is bottled without the use of chill filtration.

Laphroaig Triple Wood earned the Gold Medal at the San Francisco World Spirits Competition, and was named "Best in Class" at the International Wine and Spirits Competition. In addition, it earned a score of 94 points from Whisky Advocate and 92 points from the Beverage Testing Institute in 2013.

Pick up a bottle today!
More Information

| | |
| --- | --- |
| Proof | 96 (48% ABV) |
| Distiller/Bottler Name | Laphroaig Distillery |
| Size | 750mL |
Intense, peaty aroma with hints of caramel, raisins and prunes. Notes of honey, vanilla, buttered biscuits, cinnamon and peat on the palate. Touches of burnt sugar, caramel and toasted almonds. Finish is bold and long, with notes of peat, salty tang and red fruits.
Note: This product is not eligible for gift wrapping.
Note: Not Eligible for Return
Out of stock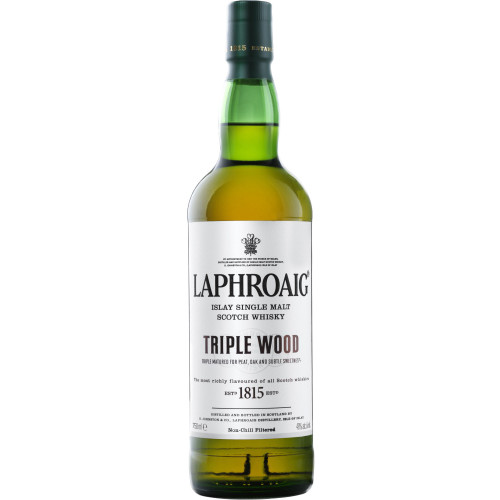 Limited Edition