Laphroaig 14 Year Old Single Malt Scotch Vintage 1998 (Signatory Bottling)
This beautiful Signatory vintage dripped from the stills in 1998. Aged in Hogshead barrels it was bottled in 2012.
In 1815, Donald and Alexander Johnston began leasing nearly 1,000 acres of land on the island of Islay. They intended to raise and sell cattle on the land, and as a result, they began growing barley to be used as feed for their livestock. Following a particularly bountiful harvest, the brothers distilled the excess grains they had grown into whisky, and sold it to the inhabitants of the island. Soon thereafter, the brothers found it more profitable to distill whisky than to raise cattle, and Laphroaig (pronounced La-froyg) Distillery was born.

For over a century, the distillery would remain in the hands of one of Johnston's descendants. In 1954, however, Ian Hunter passed away childless and bequeathed the distillery to Bessie Williamson, a secretary that had been working at the distillery for two decades. Hunter was incredibly protective of the distillery — while he slowly revealed its secrets to Williamson after she had earned his trust, Hunter prevented a cooper who was employed at the distillery from publishing his memoirs because they described the workings of the distillery in too great a detail.

Laphroaig Single Malt Whisky is one of the most flavorful and intense whiskies made anywhere in the world. During Prohibition, it was one of the few whiskies still legally imported into the United States, as it was considered a medicinal spirit. Laphroaig Single Malt is made from the finest Scottish barley, which is malted at the distillery and smoked over a peat flame. Unlike other distilleries which source peat from the Scottish mainland, the peat used to smoke Laphroaig barley is made from the heather, mosses, and lichens of Islay and adds a distinct iodine-like flavor to the whisky.

After the barley has been malted and peated, it is fermented before being twice-distilled through Laphroaig's copper-pot stills. The unique stills have an usually flat base and flat surfaces, which lends to the overall intensity of the whisky. After the whisky has been distilled, it is aged in seasoned oak barrels, which are re-charred prior to being filled. The re-charring process caramelizes the remaining sugars in the barrel, and adds slightly sweet notes of vanilla and nutty dough to the whisky. This incredible 1998 vintage Laphroaig is a signature release from Signatory's Un-chill-filtered Collection. Distilled in 1998, it was aged in hogsheads and bottled in 2012. Expect beautiful notes of apples and spice, laced with signature Laphroaig peat smoke.

Pick up your bottle today!
More Information

| | |
| --- | --- |
| Proof | 92 (46% ABV) |
| Distiller/Bottler Name | Laphroaig Distillery |
| Size | 750mL |
Smoky notes and aromas of cinnamon, orange blossom, and baked apple on the nose. The palate is robust and viscose with cocoa, baked goods and apples, followed by a smoky finish.
Note: Not Eligible for Return
Out of stock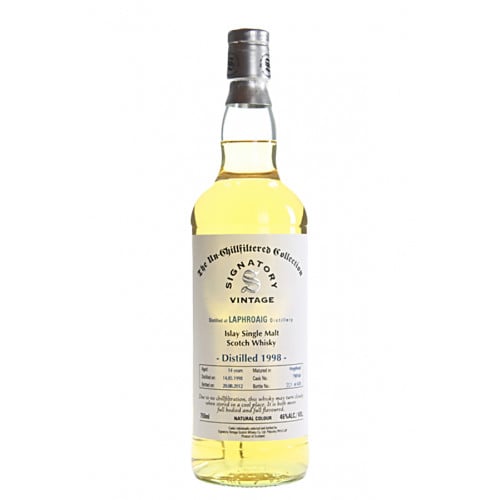 Limited Edition