Kings County Signature Edition Moonshine Whiskey
Each of these bottles of
Kings County
Whiskey is personally signed by Kings County's master distiller.
Situated along the banks of the East River in the Brooklyn Navy Yard, Kings County Distillery is New York City's oldest operating whiskey distillery and the first distillery in New York City since Prohibition. There, KC's founders — Colin Spoelman and David Haskell — hand-craft moonshine, bourbon and chocolate whiskey. "Having grown up in a dry county in Kentucky, I've always been fascinated with moonshine and spirits," says Spoelman. "I bought a plastic milkjug of illegal moonshine on a trip home once, and that really sparked my curiosity about distilling spirits. It ended up with me buying a small hobby still that we still use at Kings County."

In addition to Spoelman's hobby still, a typewriter that Haskell found on a sidewalk in Williamsburg is used to make the labels that adorn Kings County's clear, flask-shaped bottles, while a hairdryer (made by Revlon) is used to afix each bottle seal. Handwritten scrawls on a chalkboard keep track of different batches, and mesh laundry bags are used as strainers.

Kings County Moonshine Corn Whiskey is made from a mash of 80% organic, cracked corn that Spoelman and Haskell source from the Finger Lakes region in upstate New York, along with 20% Scottish malted barley. The grains are milled and mashed at the distillery before being fermented in wooden fermentation tanks built in Brooklyn. Following distillation, the moonshine is bottled at 80 proof. It has an aroma of sweet corn that is complemented by notes of pepper, roasted nuts and warm vanilla. The moonshine earned a score of 92 points from Jim Murray's Whisky Bible in 2013.


Each of these bottles of whiskey is personally signed by Colin Spoelman, the master distiller of Kings County Distillery. Pick up a set of whiskies today!


More Information

| | |
| --- | --- |
| Proof | Bourbon: 90 Proof (45% ABV) - Moonshine and Chocolate Whiskey: 80 Proof (40% ABV) |
| Distiller/Bottler Name | 123 Spirits |
| Size | 375mL |
Moonshine: Aroma of sweet corn that is balanced by notes of pepper, roasted nuts and warm vanilla on the palate.
Note: This product is not eligible for gift wrapping.
Note: Not Eligible for Return
Out of stock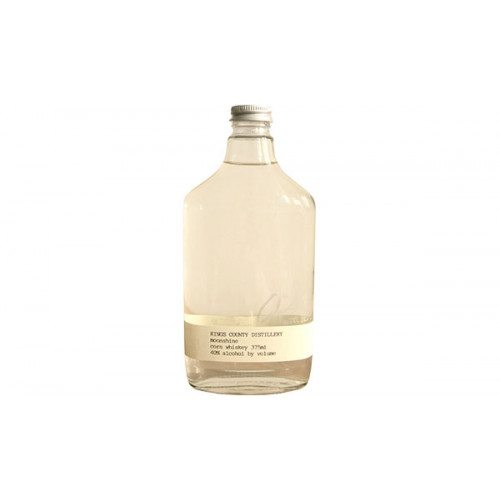 Autographed Bottle