Johnnie Walker Blue Label 200th Anniversary Blended Scotch Whisky
It has been an incredible two centuries since John Walker began blending his whiskies. The brand celebrates with this special limited-edition bottling of the acclaimed Blue Label with an attractive design.
Johnnie Walker, one of the most widely distributed brands of blended Scotch whisky in the world, originated in the Scottish burgh of Kilmarnock in East Ayrshire. The story of the brand starts with John Walker, who started a profitable grocery business with the inheritance from his father. John Walker, himself a teetotaler, found his competitive edge in whiskies he blended himself, offering his customers a consistent product, unlike most other grocers, who usually sold a line of single malts that were never all that consistent. Whisky represented about eight percent of the sales when John's son Alexander Walker took over the business after his father's death in 1857, and when the company was passed on to the third generation, this share was already between 90 and 95 percent.

The legalization of the blending of grain and malt whiskies by the Spirits Act of 1860 marked the beginning of the modern blended Scotch whisky. Johnnie Walker's first commercial blend, called Old Highland Whisky, was launched in 1867. Alexander Walker also introduced the brand's signature square bottle and the distinctive slanted label. In 1893, the Walkers acquired the Cardhu distillery and kept expanding through the early 20th century by buying interests in a number of distilleries. This ensured the company a steady supply of whiskies for its blends. By 1909, John's grandsons George and Alexander II had expanded the line, and were selling three blended whiskies.

In 1909, the company rebranded its whiskies, introducing the famous striding man logo and renaming the blends after the colors of their labels. By 1920, Johnnie Walker could be bought in 120 countries. The company joined Distillers Company in 1925, and, after its acquisition by Guinness, and Guinness's subsequent merger with Grand Metropolitan, the brand is now owned by Diageo.

Johnnie Walker is celebrating their 200th anniversary with some very special and limited releases, such as this limited-edition Blue Label bottling with an attractive celebratory design. Only 1 in 10,000 casks from the company's reserves of over 10 million maturing whiskies have what it takes to be blended into this masterpiece, including some extra-precious casks from long-closed "ghost" distilleries. Johnnie Walker Blue Label Blended Scotch Whisky represents the epitome of blending and the pinnacle of the House of Walker whisky ― this bottling is the perfect way to join in on the festivities.

Celebrate 2 centuries of Johnnie Walker with this amazing whisky!

More Information

| | |
| --- | --- |
| Proof | 87.6 (43.8% ABV) |
| Distiller/Bottler Name | Johnnie Walker |
| Size | 750mL |
The nose is fruity, with a touch of oak, spice, and vanilla. The supple and balanced palate has notes of caramel, hazelnuts, and dark chocolate. The finish is smoky, floral, warming, and extra long.
Note: Not Eligible for Return
Out of stock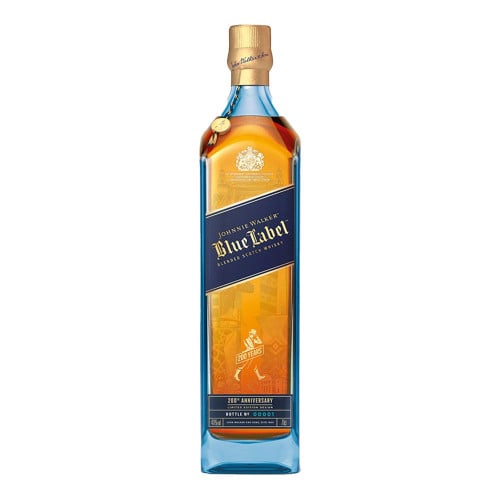 Limited Edition