Jefferson's Presidential Select 16 Year Old Twin Oak Bourbon Whiskey
This Presidential Select Bourbon is a highly nuanced, complex spirit aged for 11 years in new American Oak, before being finished in freshly charred oak barrels.
The principal author of the Declaration of Independence and one of the greatest Founding Fathers, Thomas
Jefferson
was elected the third President of the United States in 1800. During his tenure, Jefferson authorized the purchase of the Louisiana Territory, dispatched Lewis and Clark westward in order to explore the remainder of the continent and repealed the Whisky Excise Tax.
After Jefferson retired from public office in 1815, he often tended to the garden that he had cultivated on his Monticello estate. At the time, it was customary for wealthy farmers, including Jefferson, to distill the excess grains they harvested from their farms into spirits (George Washington was one of the country's largest distillers of rye whiskey). As a result, each farmer's spirits were unique and reflected the local terroir of their farm. The Jefferson's brand pays homage to Jefferson and the exquisite whiskey he distilled.
Jefferson's Bourbon is a blender and bottler of spirits. Launched in 1997 by Trey and his father Chet Zoeller, a bourbon historian. First released in 1997, Jefferson's has several offerings in their lineup, and utilizes very innovative and experimental blending and aging techniques. For example, their Jefferson's Ocean expression is a bourbon, aged on a ship at sea, exposed to extreme weather conditions, crafting a truly distinct spirit.
This bourbon has undergone a truly unique aging process. Starting out as straight Kentucky Bourbon whiskey, the bourbon is initially matured for 11 years in new American Oak casks. Next the bourbon is aged for an extra five years in freshly charred oak casks yielding a bright whiskey with an added depth of flavor and complexity imparted onto the spirit (from its long rest in these new barrels). Expect notes of orange spice, vanilla, tobacco and molasses on the finish.
Pick up your bottle today!
More Information

| | |
| --- | --- |
| Proof | 94 (47% ABV) |
| Distiller/Bottler Name | Kentucky Artisan Distillery |
| Size | 750mL |
Bright bourbon notes all throughout the nose and palate, followed by notes of orange spice, vanilla, tobacco and molasses on the finish.
Note: This product is not eligible for gift wrapping.
Note: Not Eligible for Return
Out of stock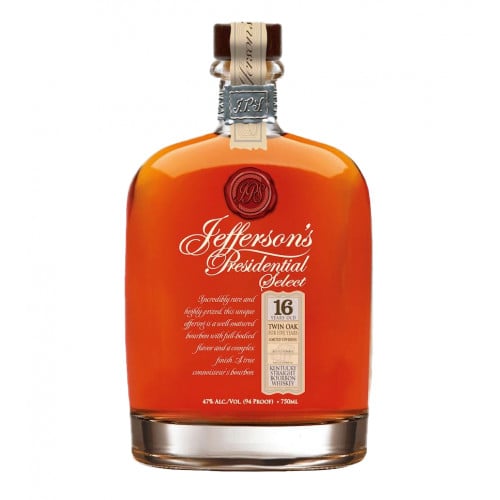 Limited Edition