James E. Pepper 15 Year Old Bourbon Whiskey
Aged for a minimum of fifteen years, this bourbon is made in homage to a whiskey that has been produced since the dawn of the American Revolution.
During the War of 1812, Elijah Pepper built the first log cabin distillery in Versailles, Kentucky. Pepper had moved to Kentucky over three decades earlier, and had begun distilling whiskey during the dawn of the American Revolution. Eventually, he passed the family business on to his son Oscar and then on to his grandson, James E. Pepper.

Colonel James E. Pepper was one of Kentucky's first Bourbon aristocrats — he raced thoroughbreds in the Kentucky Derby, traveled in a private rail car and made famous the Old Fashioned cocktail. "Pepper Whisky is an old fashioned whisky, made in the old time way from a formula used for more than 100 years by three generations of the Pepper family,"wrote James, in an advertisement dated August 22, 1887. "We claim not only to make the oldest but absolutely the purest and best brand of whisky made in America, and we invite comparison with any whisky of any age."

In 1958, after the whiskey industry fell on hard times, the James E. Pepper Distillery was forced to close its doors. During its tenure, Pepper Whisky, or "Old 1776 Whisky"as it became it known, was a favorite of Presidents Andrew Jackson and Ulysses S. Grant, and was preferred by Daniel Webster, a leading American statesman and senator from Massachusetts.

"Before re-launching this iconic brand," says Amir Peay, the founder of Georgetown Trading, "we did extensive research and spent years collecting and analyzing full, preserved bottles of original Pepper Whiskey."Peay even acquired a letter written by Pepper himself, detailing the exact mashbill and recipe used to create Old 1776. "We wanted to pay homage to Pepper's legacy and do our best to recreate the original Pepper whiskey — something that was part of American history,"he says.

James E. Pepper 1776 15 Year Old Bourbon Whiskey is made from a mash of 62% corn and malted barley, with the remainder being rye. The high-rye mashbill contributes a complex flavor to the whiskey, which has notes of malt, toasted oak and honey that are followed by a spicy finish.

"We used the same traditional methods that Pepper championed in order to restore these two whiskies," says Peay. Try this traditional whiskey today!


More Information

| | |
| --- | --- |
| Proof | 92 (46% ABV) |
| Distiller/Bottler Name | Asbury Park Distilling Co. |
| Size | 750mL |
Complex notes of malt, toasted oak, vanilla and honey. Finish is spicy, with notes of cinnamon and baking spices.
Note: This product is not eligible for gift wrapping.
Note: Not Eligible for Return
Out of stock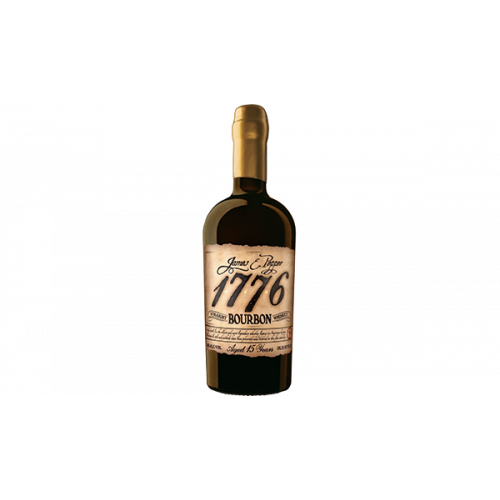 Limited Supply