J.J. Corry 'The Gael' Batch No. 1 Irish Whiskey
This Gael Irish whiskey earned gold medals at the 2017 Gold Medal Irish Whiskey Awards and 2018 San Francisco World Spirits Competition.
Founded in 2015 by Louise McGuane, J.J. Corry Irish Whiskey is Ireland's first modern Whiskey Bonder. Irish Whiskey Bonding is a traditional business model whereby Bonders, typically publicans and mercantile owners all across the Island would source casks and new make Whiskey Spirit which they would age and blend for local customers.

Throughout the golden age of Irish Whiskey in the 19th century, most Irish Whiskey was blended by and sold to consumers by the Bonders. However, the practice died out in the 1930s with the near collapse of the Irish whiskey industry, after which all aspects of Irish Whiskey production & sales was undertaken by the distilleries. With the decline of bonding Ireland lost 100's of regional and local styles of whiskey and the art of blending fell out of focus. J.J. Corry Irish Whiskey has resurrected this lost art of Irish Whiskey Bonding, under the brand of the renowned 19 century local Whiskey Bonder, J.J. Corry from Co. Clare.

The company sources new make Whiskey Spirit from Irish distilleries and matures it in a purpose built bonded rackhouse on the McGuane Family farm in Cooraclare, Co. Clare, right along the Wild Atlantic Way. Whilst waiting for their spirit to come of age, they source & blend rare mature whiskey to create their own unique house style. Named after a Bicycle that J.J. Corry invented, in tribute to his entrepreneurial spirit, their first release, J.J. Corry 'The Gael', is classic style of blended Irish Whiskey, bursting with juicy fruit flavors and underlying complexity. It contains unusually mature whiskies for an Irish blend. 

"To make the Gael, we first sourced excellent quality and very rare mature Irish Whiskey. We then set about classifying each cask we have into a particular flavor block. Finally, we began blending to create a classically fruity but complex Irish Whiskey. We are passionate about transparency at J.J. Corry and for this reason we do not add any artificial coloring or ingredients and we do not chill filter. Our first release is a small batch of just 7,000 bottles."

'The Gael' is a blend of 26 year old Single Malt (5%), 15 year old Single Malt (27.5%), 11 year old Single Malt (27.5%), and a 7 year old Grain (40%).  

Pick up your bottle today!
More Information

| | |
| --- | --- |
| Proof | 92 (46% ABV) |
| Distiller/Bottler Name | J.J. Corry Irish Whiskey |
| Size | 750mL |
Hints of fresh bergamot & beeswax on the nose. The palate has ripe white stone fruit & lime, with mineralogy & pink pepper corns. The finish is medium length, minerals again with dried grapefruit & apple notes.
Note: This product is not eligible for gift wrapping.
Note: Not Eligible for Return
Out of stock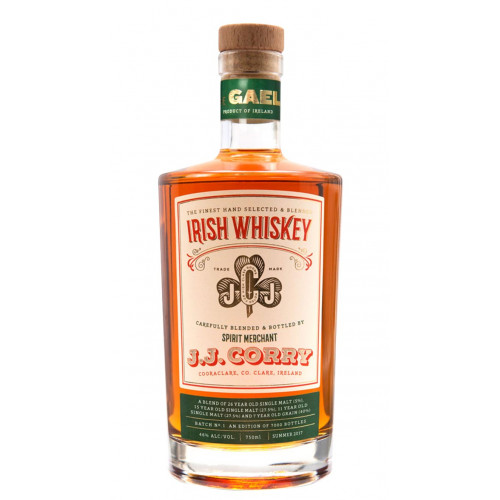 Limited Edition