Hillrock Solera Aged Bourbon Whiskey (Signature Edition)
This bourbon, which is the world's first solera-aged bourbon, earned a score of 96 points from Wine Enthusiast.
In the early 1800s, the State of New York was responsible for the production of more than half of the barley and rye harvested in the United States. The Hudson Valley, which extends from New York City northward through Albany, was the country's original breadbasket and was home to thousands of farms, hundreds of which distilled the excess grains they harvested into whiskey. In the 1930's, the onset of Prohibition forced these farmers to abandon their stills.

Today, in a 19th century Georgian mansion situated in the heart of the Hudson Valley, Master Distiller Dave Pickerell pays homage to the New York farmers who produced their whiskey from grains to glass. Pickerell, who graduated from West Point with a Bachelor's degree in Chemistry, served in the military for 11 years as a cavalry officer before receiving his Master's degree in Chemical Engineering from the University of Louisville. Then, Pickerell served as Master Distiller as Maker's Mark in Loretto, Kentucky for 13 years. There, he was responsible for ensuring the quality and consistency of Maker's Mark Bourbon. A former chairman of the Kentucky Distillers Association and a member of the Distilled Spirits Council, Pickerell is an expert nonpareil in the production of whiskey.

Hillrock Solera Aged Bourbon is the world's first solera aged bourbon. Solera aging is a process that has generally been reserved for aging cognacs, ports and sherries. It involves filling a series of casks at different intervals over a long period of time. As whiskey from the oldest cask is emptied and bottled, the cask is re-filled with an equivalent amount of whiskey from the second-oldest cask in the solera. This cascading effect continues until the youngest cask in the solera is filled with new whiskey. As a result, no cask in the solera is ever fully emptied. In addition, as the younger whiskey ages and cascades through the solera, its average age and complexity gradually increases over time.

Hillrock Solera Aged Bourbon marries Hillrock Estate Bourbon with a mature seed bourbon that was carefully sourced by Pickerell. After cascading through the solera, Hillrock Solera Aged Bourbon is finished in 20 year old Oloroso Sherry casks. The finishing process balances the spicy rye flavors of the bourbon and adds further complexity, with layers of fig, roasted walnuts and candied fruit. The current age of Hillrock Solera Aged Bourbon is approximately seven years and the rye content is approximately 37%.

Hillrock Bourbon was named one of the Top 50 Spirits of 2013 by Wine Enthusiast (it was ranked the #2 bourbon), which gave it a score of 96 points. It also earned the SIlver Medal at the San Francisco World Spirits Competition in 2013.

This bottle of Hillrock Bourbon is exclusively for Caskers members and signed by Master Distiller Dave Pickerell. Pick up a bottle today!


More Information

| | |
| --- | --- |
| Proof | 92.6 (46.3% ABV) |
| Distiller/Bottler Name | Hillrock Estate Distillery |
| Size | 750mL |
Sweet nose with caramel and vanilla, slightly floral and fruity. Sweet yet slightly spicy from the rye, it has notes of brown sugar, maple syrup, rock candy and toffee. Spicy notes include clove and cinnamon. Well-balanced with roasted corn, toast and raisin. Sherry finishing adds flavors of walnut, fig and candied fruit. Finish is medium-long with notes of sweet caramel and butterscotch.
Note: This product is not eligible for gift wrapping.
Note: Not Eligible for Return
Out of stock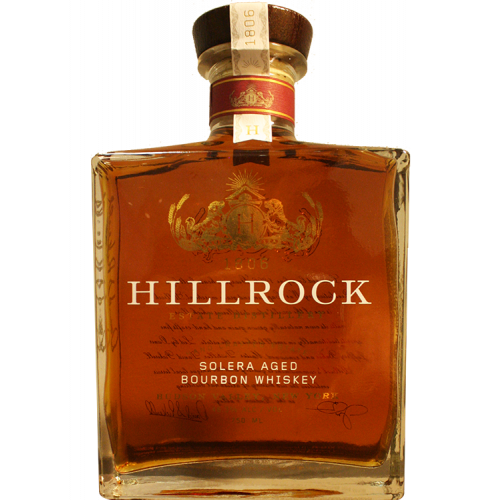 Autographed