Glengoyne 35 Year Old Single Malt Scotch Whisky
This impeccably aged 35 Year old Glengoyne is a stunning collectors item. This is an exceptionally rare spirit with only 500 bottles in existence.
Situated in a wooded valley in the Highlands region of Scotland, Glengoyne Distillery was founded by George Campbell and has been producing single malt whisky continuously since 1833. The distillery, which takes its name from "Glen Guin" or Glen of the Wild Geese, is situated directly atop the Highlands Line — the line that divides the Highlands and Lowlands regions of Scotland. As a result, while Glengoyne Single Malt Scotch Whisky is distilled in the Highlands region, it is matured in the Lowlands region, despite the fact that the distillery's stillhouse and maturation warehouses are across the street from each other.

Glengoyne Single Malt Whisky is produced exclusively from Golden Promise barley. Golden Promise is an early-maturing spring barley that has a depth of flavor ideal for single malts. While it was popular in the production of whisky for many years, it gave way to cheaper barely that was higher in yield but lower in quality. Today, Glengoyne, along with The Macallan, is one of only two distilleries remaining in Scotland that continues to use Golden Promise barley.

Once the Golden Promise barley has been air-dried, it is milled and mashed before being fermented for 56 hours in washbacks crafted from pine. Following fermentation, the wash is distilled through Glengoyne's copper-pot wash still and then again through its two copper-pot spirit stills, working in tandem (whisky is distilled more slowly at Glengoyne than at any other distillery in Scotland). The copper stills remove any remaining sulphur in the wash, and produce the sweet, concentrated flavors that define Glengoyne Scotch Whisky.

Distilled in the 1970's this impeccably aged whisky is 35 years in the making. This is a complex malt full of tropical intensity rich licorice and dark chocolate finish. This is an exceptionally rare spirit with only 500 bottles available in the world. Each hand-blown decanter is engraved, numbered, and collared in gold with a crystal stopper. Housed in a handcrafted bespoke, solid oak gull-wing box.

Pick up your bottle today!
More Information

| | |
| --- | --- |
| Proof | 93.6 (46.8% ABV) |
| Distiller/Bottler Name | Glengoyne Distillery |
| Size | 750mL |
Notes of dark chocolate, mango, coconut, aged leather, honeycomb, licorice and citrus peel.
Note: Not Eligible for Return
Out of stock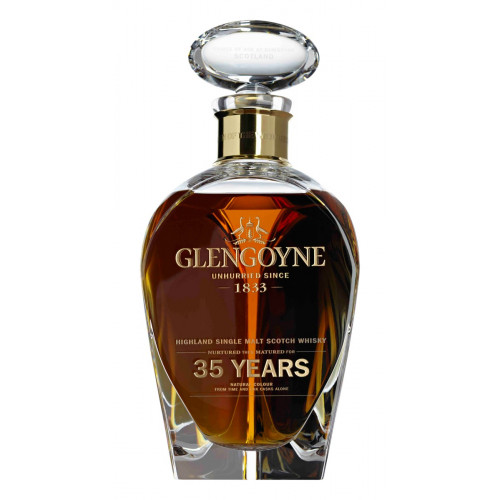 Limited Edition