Garrison Brothers HoneyDew Straight Bourbon Whiskey
Situated on a rolling ranch in Texas amidst wide open prairies, Garrison Brothers was founded in 2005. HoneyDew is a limited-edition, award-winning bourbon, infused with Burleson's Texas Wildflower Honey. With no artificial flavors and only 3,700 bottles released, it is a one-of-a-kind.
Situated on a rolling ranch in Texas Hill Country amidst wide open prairies under the scorching Texas sun, Garrison Brothers Distillery was founded in 2005. In 2006, it was granted the first distiller's permit for bourbon outside of Kentucky and Tennessee, making it the oldest legal whiskey distillery in Texas. "Like everything in the Lone Star State, our dreams were big from the start," says Dan Garrison, the distillery's owner. "We didn't want to make just any bourbon — we wanted to make the best bourbon ever made."

Admittedly, it wasn't smooth sailing from the very beginning. The barrels of their first batch gave in under the infamous Texas heat, but the spirit at Garrison Brothers was stronger and refused to yield. The barrels used today are custom made with staves thick enough to bear the heat and at Garrison Bros, they are very proud of their products. And rightfully so. In 2020 alone, the list of accolades is long: Silver and Gold at San Francisco World Spirits Competition as well as Double Gold and the Innovation Award at Spirits International Prestige Awards, among others. When they released their iconic Cowboy Bourbon, people waited in lines outside the distillery just to be able to get a bottle.

The 3rd experimental in a long line, HoneyDew is also made with one of their award-winning bourbons, the Small Batch Bourbon Whiskey, which is then infused with Burleson's Texas Wildflower Honey. Donnis Todd, their Master Distiller, took used bourbon barrels, cut them into small, wooden cubes and immersed them in honey. Once fully immersed, they were moved inside a stainless-steel tank where the bourbon was allowed to slowly soak up the whole range of honey flavors for 7 months. Bottled at 80 proof, this honey-infused Texas bourbon is something that has never been done before and Todd says it might be their only release. At 3,700 bottles, this makes it a very limited edition. His prediction is most men will buy it for their wives or girlfriends but end up drinking it themselves. It would be no wonder, since in the words of Dan Garrison, it is a magical nectar, light, delicate, gentle and floral – perfect for getting you through an intense summer. It is not to be taken too lightly, though, since HoneyDew is also an award-winning bourbon, receiving the Gold North American Bourbon and Whiskey Competition Prize in 2020.

Get a bottle of this limited-edition bourbon today!

More Information

| | |
| --- | --- |
| Proof | 80 (40% ABV) |
| Distiller/Bottler Name | Garrison Brothers Distillery |
| Size | 750mL |
A beautiful dark caramel hue. An aroma of sweet and gentle, floral notes of peaches, apricots and white chocolate. The spice is kept in check by the taste of delicious, Texas honey, which lingers on the palate and fades into a medium-length finish.
This product is available in: AZ, CA, CO, CT, DC, FL, GA, ID, IL, IN, KS, KY, LA, ME, MD, MI, MN, MO, NE, NV, NH, NJ, NM, NY, NC, ND, PA, RI, SC, TX, WA
Unfortunately, we can't ship to PO Boxes and APO addresses.
Note: Not Eligible for Return
7% OFF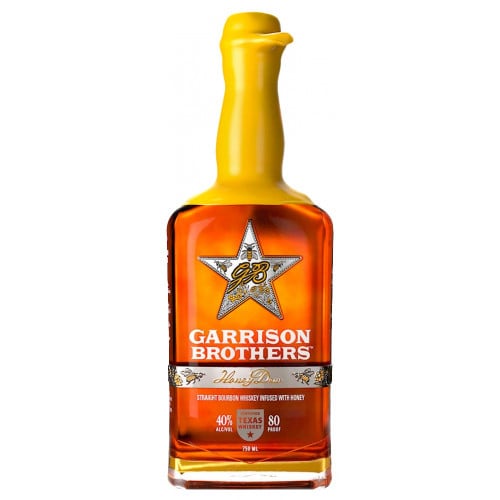 Limited Edition