Dowling Distillers Collector's Item 16 Year Old Bottled in Bond 1953
Distilled at the James E. Pepper distillery in 1953 ― only 5 years before the distillery closed its doors ― this rare and historic 16-year-old bourbon was bottled in 1969.
Elijah Pepper began distilling whiskey at the dawn of the American Revolution and during the War of 1812, he built the first log cabin distillery in Versailles, Kentucky. Eventually, he passed the family business on to his son, Oscar, and then on to his grandson, James E. Pepper.

Colonel James E. Pepper was one of Kentucky's first bourbon aristocrats — he raced thoroughbreds in the Kentucky Derby, traveled in a private rail car, and made famous the Old Fashioned cocktail. "Pepper Whisky is an old fashioned whisky, made in the old time way from a formula used for more than 100 years by three generations of the Pepper family," wrote James, in an advertisement dated August 22, 1887. "We claim not only to make the oldest but absolutely the purest and best brand of whisky made in America, and we invite comparison with any whisky of any age."

In 1958, after the whiskey industry fell on hard times, the James E. Pepper Distillery was forced to close its doors. During its tenure, Pepper Whiskey, or "Old 1776 Whiskey" as it became known as, was a favorite of Presidents Andrew Jackson and Ulysses S. Grant, and was preferred by Daniel Webster, a leading American statesman and senator from Massachusetts.

This expression was distilled in 1953 at the James E. Pepper distillery ― only 5 years before the distillery closed its doors ― and bottled in 1969. Released as a part of Dowling Distillers Collector's Item series, the 16-year-old bourbon is bottled-in-bond, clocking in at 100 proof. It's a rare bourbon that's a true collector's item, just as the name implies.

Get your bottle of this rare bourbon today!
More Information

| | |
| --- | --- |
| Proof | 100 (50% ABV) |
| Distiller/Bottler Name | James E. Pepper |
| Size | 750mL |
You'll find a balance of caramel, vanilla, oak, cherry, and spice aromas on the nose. The notes from the nose are mirrored on the fruity and pleasantly sweet palate. The finish is oaky and fruity with a touch of candy.
Note: Not Eligible for Return
Out of stock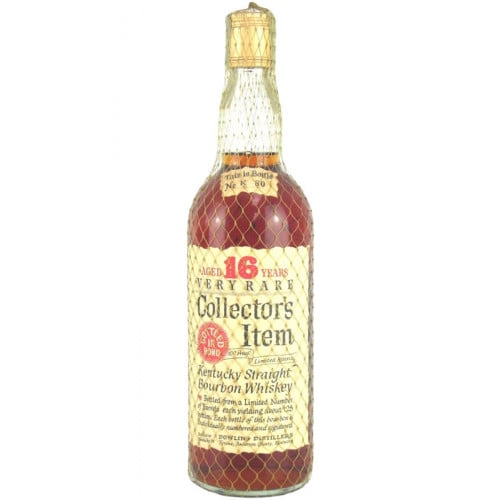 Limited Edition