Deanston 10 Year Old Pedro Ximenez Single Malt Scotch Whisky
This Pedro Ximenez bottling is a rare, unique release, finished in specially selected Pedro Ximenez butts.
In 1785, Sir Richard Arkwright designed and helped construct a cotton mill on the banks of the River Teith. The mill, which was situated just outside Edinburgh, operated for nearly two centuries and employed as many as 1,500 works in the 19th century. In 1965, however, as demand for Scottish cotton fell, the mill was forced to close its doors.

The same year, James Finlay, Brodie Hepburn and A.B. Grant (collectively known as the Deanston Distillers) purchased the Deanston Mill and began converting it into a distillery. The mill was ideally suited to produce and age whisky — it was already situated along one of the purest water sources in all of Scotland and the mill's storage cellars, originally designed to store cotton, were perfect for housing maturing casks of whisky. The refurbishment took nearly a year and cost over £300,000, but on October 17, 1966, the Deanston Distillers opened the doors to Deanston Distillery for the first time.

Deanston Single Malt Whisky is made using Scottish-grown barley that is grown without the use of pesticides or chemicals. After the barley is mashed and fermented in an 11-ton open-topped mash tun — the only one of its kind in Scotland — it is twice distilled through Deanston's copper pot stills. The stills are equipped with a sloping lyne arm and boiler ball, which helps ensure a lighter and smoother whisky.

This Pedro Ximenez bottling is a rare, unique release, originally hand-filled in bourbon casks. After being rested for eight years the beautiful amber spirit was transferred to specially selected Pedro Ximenez butts. Left to finish for two more years, the spirit takes in the influence and aromas of the dark, sweet sherry wood. The resultant spirit is an incredible single malt displaying distinctive, honeyed notes, with added elements of fruit cake, raisins, and chocolate. A decadent delight.

Get your bottle today!
More Information

| | |
| --- | --- |
| Proof | 115 (57.5% ABV) |
| Distiller/Bottler Name | Deanston Distillery |
| Size | 750mL |
Heavy sherry and chocolate notes, ginger, vanilla, allspice, nuts on the nose. The palate has chocolate, spice, vanilla, maraschino cherries, red fruits, plums, citrus fruits, and candied fruits. The finish is medium with candied fruits and spice.
Note: Not Eligible for Return
Out of stock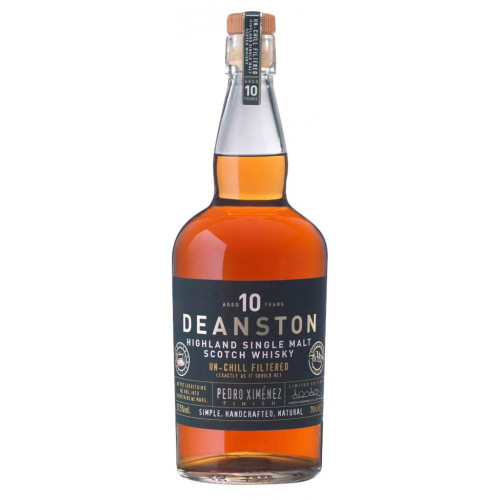 Limited Edition