Bruichladdich 1988/30 Rare Cask Series: The Untouchable
Matured 100% in the same Refill Bourbon casks from 1988, this only 5,800 bottles of this vintage exist worldwide.
Bruichladdich
is an award-winning distillery employing generations of distilling knowledge and the principle of minimal intervention. Built in 1881 on the wild Scottish island of Islay, their distillery still uses the original Victorian equipment to create a range of single malt whiskies that are trickle distilled, matured and bottled solely on Islay by a skilled team of men and women. Bruichladdich implements revolutionary, modern interpretations of time-honored ideas and challenges the comfortable conventions of a whisky establishment.
Rejecting the onset of modern automation and homogenization, Bruichladdich Head Distiller, Adam Hannett, only considers production methods that place the quality of liquid above everything else. Diversity starts in the field. Provenance is key. They believe the interaction of man, land, soil and climate is paramount. They value their farmer relationships, reconnecting that lost cycle between farmer and distiller - land and spirit.
The modern Bruichladdich Distillery is known as the most experimental and adventurous of the Scottish distilleries. Head distiller Adam Hannett has released a series of three very old Bruichladdich whiskies that he describes as "The last of their kind." A series of three very old whiskies from 1984, 1985, and 1986 that Adam says are, "rare, old single malts are a direct link to our past, to the men who made truly special spirit here while facing very different circumstances to those which we enjoy today. Testament to their skill and hard work it was laid down to mature by the shores of Loch Indaal, unaware of what the future might bring."
This exceptional, ultra-rare Bruichladdich 1988/30 has never been re-casked; deemed to be get the most from its refill Bourbon casks it was laid in to, 30 years ago. Matured 100% in the same Refill Bourbon casks from 1988, this is a limited release of only 5,800 bottles available worldwide.
Pick up your bottle today!
More Information

| | |
| --- | --- |
| Proof | 92.4 (46.2% ABV) |
| Distiller/Bottler Name | Bruichladdich |
| Size | 750mL |
Roasted coffee, amaretto, apricot and toasted malty bread.
Note: Not Eligible for Return
Out of stock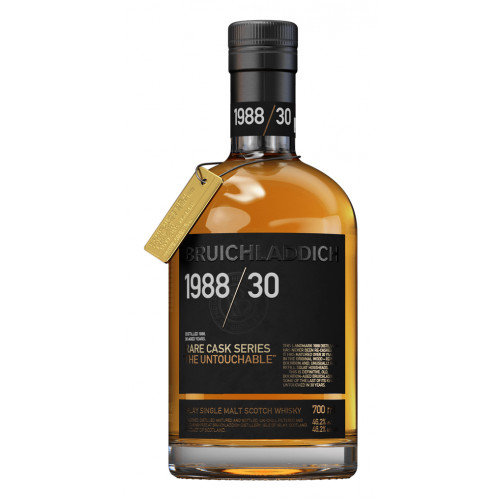 Limited Edition