Bruichladdich Octomore 11.1 Single Malt Scotch Whisky
Distilled from 100% Scottish barley in 2014, this expression has spent 5 years in first-fill American oak ex-bourbon casks. It might be a peat bomb, but it's expertly balanced by vanilla sweetness as well as delicate floral and fruity notes.
Have a
private virtual tasting masterclass
with Head Distiller
Adam Hannett,
the master behind the legendary
Bruichladdich
series.
Register for Bruichladdich's masterclasses here!
Inspired by an entrepreneurial flair and a youthful enthusiasm, the Harvey brothers began construction of the Bruichladdich (pronounced brook-laddie or broo-lah-dee) Distillery in 1881. The brothers were descendants of a dynastic whisky family — their ancestors had already owned distilleries in Scotland for over a century. Today, Bruichladdich Distillery (Bruichladdich means "rocky shore" in ancient Gaelic) remains situated on the shores of Loch Indaal on the island of Islay, and continues to use much of the original equipment installed by the Harvey brothers to craft a range of single malt whiskies that are trickle distilled, matured, and bottled on Islay.

The modern Bruichladdich Distillery is known as the most experimental and adventurous of the Scottish distilleries, implementing revolutionary, modern interpretations of time-honored ideas and challenging the comfortable conventions of a whisky establishment. The Octomore series is the embodiment of this philosophy. Rejecting the onset of modern automation and homogenization, Bruichladdich's Head Distiller, Adam Hannett, only considers production methods that place the quality of liquid above everything else.

Both Octomore 11.1 and 11.3 are malted to an extremely high 100+ PPM. What sets them apart is the barley character from different regions. The 11.1 was crafted with 100% Scottish concerto and propino barley. Distilled in 2014, it then spent 5 years in first-fill American oak ex-bourbon casks from Jim Beam, Heaven Hill, and Jack Daniels. Super-heavily peated, yet delicately balanced with the sweetness and vanilla of the barrels and delicate floral and fruity notes, it's a complex and powerful Islay spirit that is bottled at 118.8 proof and limited to 30,000 bottles.

Grab a bottle today!

More Information

| | |
| --- | --- |
| Proof | 118.8 (59.4% ABV) |
| Distiller/Bottler Name | Bruichladdich Distillery |
| Size | 750mL |
Lemon, grassy, earthy, and brine notes lead the charge on the nose, followed by rubbery, medicinal peat smoke. Honey, malt, and green fruit follow. The palate has brown sugar, some heat, stone fruit, vanilla, toasted oak, and toffee. The mineral earthiness and citrus give way to plenty of bonfire and tar smoke on the finish with lingering honey, vanilla, and spice.
Note: Not Eligible for Return
Out of stock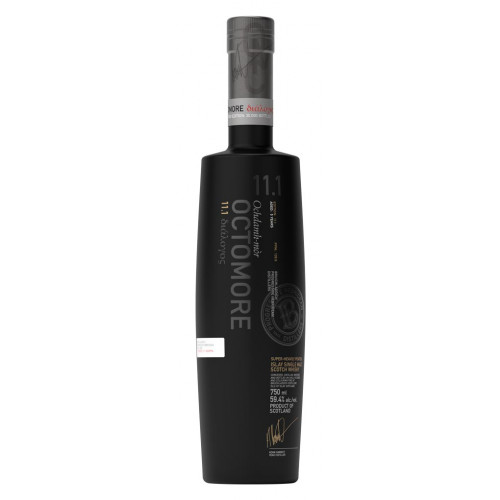 New Release