Bombay Sapphire English Estate London Dry Gin
This expression takes its inspiration from the landscapes surrounding the Laverstoke Mill distillery. It builds on the classic Bombay Sapphire recipe, adding 3 botanicals to the original 10: pennyroyal mint, rosehip, and toasted hazelnut.
Bombay Sapphire's roots go back to 1761 when Thomas Dakin set out to build a gin distillery at a freshly-purchased site in Warrington, England. The family kept perfecting the recipe of their Warrington Gin, acquiring a copper still in 1831 and adapting it for vapor infusion, the artisanal process that captures the botanicals, aromas and flavors in vapor ― the same distillation process used by Bombay Sapphire today. After changing hands a couple of times, the distillery along with the recipe was relaunched in 1986, bringing the Warrington Gin recipe into modern times as Bombay Sapphire, a hugely influential brand that played a major role in the spirit's surge of popularity.

Laverstoke Mill is as a historic building as they come, with the earliest written record of a mill at the location dating back to 1086. Having been owned by William the Conqueror and Henry VIII, the site has seen 4 royal visits in its rich history. In 1719 the mill was leased by printer Henry Portal and used for the manufacture of banknotes throughout the reign of Queen Victoria. During this time, several expansions were carried out in order to increase production. It was in 2010 that Bombay Spirits Company purchased Laverstoke Mill, opening the distillery doors to the public in 2014.

Bombay Sapphire gin employs 10 botanicals in its recipe, meticulously overseen and hand-selected by their Master of Botanicals, Ivano Tonutti: almond, lemon peel, licorice, juniper berries, orris root, angelica, coriander, cassia, cubeb, and grains of paradise. It's the vapor infusion that plays a large role in creating its signature taste profile. During distillation, the spirit vapor passes through the botanicals, suspended at the top of the column, resulting in the delicate aromas and tastes that the gin is known for. Blended with pristine water from Lake Vyrnwy, the resulting spirit is delicate, fresh, floral, and light.

Released in 2019, the Limited Edition Bombay Sapphire English Estate Gin builds on that foundation of 10 botanicals and vapor infusion with an additional 3 botanicals: pennyroyal mint, rosehip, and toasted hazelnut. This brings a distinct nuttiness and floral notes to the profile, while still retaining the original's character and perfect balance. Light and refreshing, this 82-proof expression was crafted to be enjoyed in various summer cocktails, taking its inspiration from the landscape that surrounds the Laverstoke Mill distillery.

Grab this limited-edition Bombay Sapphire release today!

More Information

| | |
| --- | --- |
| Proof | 82 (41% ABV) |
| Distiller/Bottler Name | Bombay Sapphire Distillery |
| Size | 750mL |
It's a vibrant and floral gin with citrus, mint, pine, and a distinct nuttiness on the nose. Juniper is on the palate along with additional nutty and floral notes as well as a touch of spice. Finishes floral with hints of peppery spice.
Note: Not Eligible for Return
Out of stock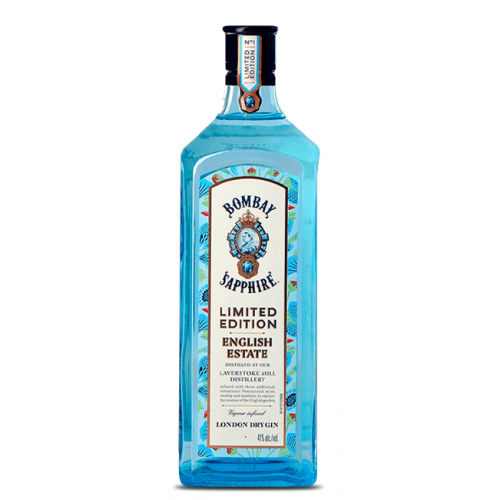 Limited Edition