Blood Oath Pact 4 is a masterful union of three well-bred bourbons. The first, an extra-aged-12-year-old bourbon. The second, a rich 10-year-old-bourbon. The third, a 9-year-old bourbon finished in toasted barrels.
John Rempe has been developing and blending spirits and beverages for over 20 years — Rempe, who serves as Luxco's Director of Corporate Research and Development, has a B.S. in Biology and is a Certified Food Scientist, and helped develop some of Luxco's most well-known whiskey brands such as Rebel Yell and Ezra Brooks. Rempe believes that blending whiskies comes with the luxury of not being tied down to a single distillery, which provides unlimited options for exploring and creating the exact flavor profile he's seeking.

Blood Oath Bourbon Pact No. 4 is Rempe's latest creation and is the newest release in the renowned and highly sought-after Blood Oath series. "a fateful affair between Kentucky and California," Blood Oath Bourbon Pact No. 4

Blended from three phenomenal whiskies: a spirited, seven-year-old bourbon finished in cabernet sauvignon casks from California; and an incredibly smooth blend of 7 and 12-year old bourbons that provide a unique base that works very well with the, now signature, wine-finish trend. This well-aged bourbon blend is bottled at 98.6 proof, like its predecessors, and just like its predecessors, the visual presentation of the product is 'on par' with the quality of this whiskey.

This 4 Batch of Blood Oath Pact is more complex, combining toasted barrels with charred barrels. It gets its character from three phenomenal bourbons, each imparting its own character onto the spirit. This fourth Blood Oath incarantion is comprised of an extra-aged 12-year-old, yielding a smooth finish with deep oak undertones, a deeply complex 10-year-old bourbon, imparting warm caramel and honey flavors, and a 9-year-old bourbon finished in toasted bourbon barrels, imparting deep rich notes of chocolate, and vanilla with a dose of spice onto the spirit.

Pick up your bottle today!
More Information

| | |
| --- | --- |
| Proof | 98.6 (49.3% ABV) |
| Distiller/Bottler Name | Lux Row Distillers |
| Size | 750mL |
Caramel and strong oak, backed up with rich vanilla and chocolate on the nose. The palate is rich with caramel, honey and spicy oak, followed with smooth vanilla and warm chocolate undertones from the toasted barrels. The finish is robust spice followed by ultra-smooth finish, with lasting caramel, vanilla and oak.
Note: This product is not eligible for gift wrapping.
Note: Not Eligible for Return
Out of stock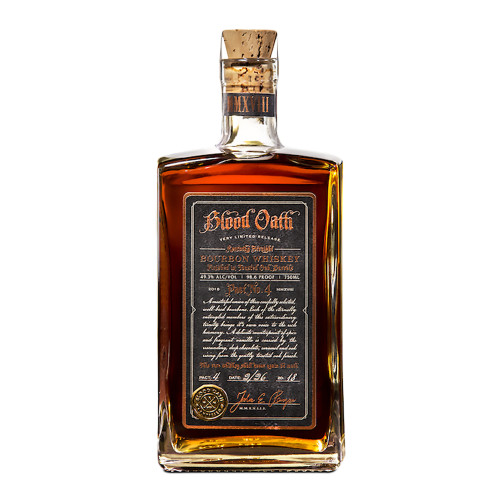 Limited Edition