Westland Garryana Single Malt Whiskey
A limited edition release of 2600 bottles, this American single malt is aged in Garryana, a unique indigenous oak native to the Pacific Northwest.
Founded in 2010 in Seattle, WA,
Westland
Distillery mashes, distills, matures and bottles American Single Malt Whiskey in the heart of the Pacific Northwest. Situated in the SoDo neighborhood of Seattle, Westland's 13,000 square foot distillery boasts a 5,000 mash-house, five 10,000 liter fermenters and two copper pot stills. It's here where Westland's Master Distiller Matt Hofmann crafts the distillery's core American Single Malt Whiskey. Like single malt Scotch, American single malt whiskey is made using a malted barley made at a single distillery.
American single malt whiskeys, however, are less regulated, allowing more room for experimentation. With a specialty mash bill of Washington Select Pale Malt, Munich Malt, Extra Special Malt, pale chocolate malt, brown malt, and peated malt, their specialty Garryana-aged single malt is fermented with Belgian Brewer's Yeast for a total of 144 hours, and aged partially in a distinct oak.
Garryana is the embodiment of provenance, "an expression of the Pacific Northwest—both its land and its culture—in whiskey" (producer). This limited edition series of bottlings explores the nature of the unique species of native oak, Quercus garryana (also known as Garry or Oregon oak), and its unique influence on the cornerstone elements of Westland's distinctive house style of American single malt. This 2018 edition of Westland's single malt Garryana whiskey is comprised of 52% pale malt aged in 1st fill ex-bourbon Quercus alba, 27% Westland's proprietary five malt aged in Virgin Quercus alba (new American oak), and 21% pale malt aged in Virgin Quercus garryana. A limited edition release of 2600 bottles!
Get your bottle today!
More Information

| | |
| --- | --- |
| Proof | 100 (50% ABV) |
| Distiller/Bottler Name | Westland Distillery |
| Size | 750mL |
On the nose are notes of clove, nutmeg, and honeycomb, followed by darker notes of mocha and wood smoke before opening up to candied ginger and dried tropical fruits. On the palate are Garry Oak's signature flavors of molasses and BBQ smoke lead with notes of mouth-coating espresso, blueberry ice cream, and subtle citrus joining.
Note: Not Eligible for Return
Out of stock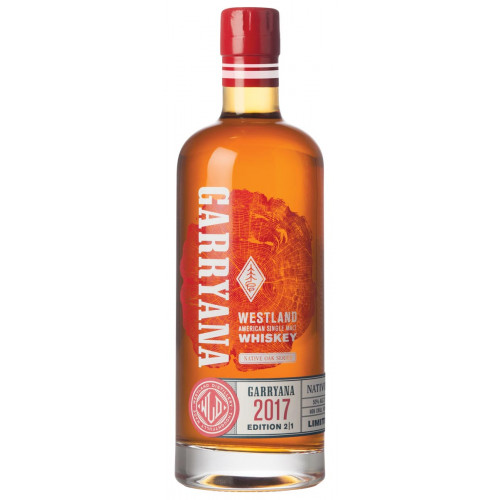 Limited Edition