Sagamore Spirit Calvados Finish Straight Rye Whiskey
The Calvados Finish expression continues
Sagamore
's experimentation with different cask finishes. After port and cognac barrels, French apple brandy calvados takes the spotlight, imparting the spirit with a distinct fruitiness.
The Sagamore Spirit Calvados Finish continues their experimentation with finishing their straight rye whiskey in various different casks. After port and cognac, they decided to give the limelight to ex-calvados barrels which used to hold the French apple brandy. "One of our distillers has a personal penchant for Calvados and wanted to see what it might bring out in our rye whiskey. [...] They gave it the time it needed in the barrel to create one of our most special releases so far," says Sagamore's president Brian Treacy.

In the early 1800s, Maryland farmers were using rye as a cover crop. The rye has a fibrous and sturdy character that keeps soil healthy, protects the land from erosion, and last but not least, it serves as a base for a top-notch whiskey. Rye whiskey production also turned out to be more profitable than simply selling raw grain. After the grains were harvested in the spring and later distilled, rye whiskey became the unofficial spirit of Maryland.

Sagamore Spirit pays tribute to these early days of the Maryland distilling tradition with their carefully crafted unique rye whiskeys. Their core line is comprised of three Maryland-Style Rye Whiskeys – Sagamore Spirit Rye Whiskey, Cask Strength Rye Whiskey, and Double Oak Rye Whiskey. In the past, Maryland Rye Whiskey was famous for its smoothness and a lingering rye spice finish that harbored creamy tastes, imparted from the calcium-rich waters of Maryland limestone.

Sagamore Spirit's whiskeys are made from water that flows from their Spring House, built in 1909, at Sagamore Farm. It comes from a limestone aquifer, which makes it pure and naturally filtered - it's cool, crisp, and calcium-rich, or in other words: perfect for whiskey. Receiving 95 points from The Tasting Panel and a Gold Medal from the SIP Awards, their signature Sagamore Spirit Rye Whiskey exemplifies Maryland-style rye whiskey, with balanced notes of warm cinnamon, vanilla bean, honey, and spice.

At their Baltimore distillery, each batch is hand-blended for consistency in aroma, flavor, and texture. The spirit is crafted from two distinct mash bills, one a high rye and the other a low rye, that yield their signature bold flavor profile. The high rye contains rye and malted barley in a ratio that gives flavors of baking spices and fruit. The second mash bill, a low rye where corn and malted barley are more prominent, helps create a smooth, slightly sweet spirit. The two recipes are distilled, aged separately, then blended to achieve a Maryland-style rye flavor profile prior to bottling - creating a bold, approachable spirit.

Pick up a bottle today!

More Information

| | |
| --- | --- |
| Proof | 101.2 (50.6% ABV) |
| Distiller/Bottler Name | Sagamore Spirit Distillery |
| Size | 750mL |
The nose is rich with baked apples, honey, as well as cinnamon. Even more fruit reveals itself on the palate with apples, pears, honey, vanilla, and spicy clove notes. The honey lingers through the finish and is joined by a pleasant nuttiness.
Note: Not Eligible for Return
Out of stock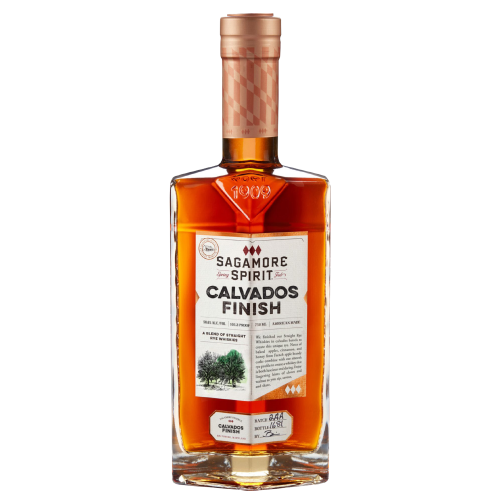 Free Shipping