Glenmorangie Astar Single Malt Scotch Whisky
Scots Gaelic for "journey," this single malt is matured exclusively in bespoke, oak casks, crafted from the slow-grown oak trees of the Ozark mountains of Missouri.
In 1738, a brewery was built upon Morangie Farm in the Highlands region of Scotland. A century later, William Matheson acquired the farm and equipped the Morangie brewery with two stills that he purchased second-hand, and renamed the brewery-converted-distillery
Glenmorangie
.
Glenmorangie Single Malt Scotch Whisky is made using malted barley, which is germinated with water sourced from the Tarlogie Spring. The water produced from the spring, which spends nearly a century underground before it is extracted, is unusually rich in minerals. (In the 1980s, when development in the area threatened the spring's water quality, the distillery purchased 600 acres of land around and including the spring, in order to ensure consistent water quality and adequate supply.)
After germination, the grains are mashed and fermented before being twice distilled through Glenmorangie's copper-pot stills. The stills are equipped with relatively small boiler pots, which increases the exposure of the whisky to the copper, resulting in a more pure flavor. In addition, the stills are nearly seventeen feet tall — the tallest of any distillery in Scotland — and as a result, produce a lighter, more refined whisky.
In 2008, Glenmorangie Astar was introduced. Scots Gaelic for "journey," this single malt is matured exclusively in bespoke, hand-selected oak casks, hewn from hand-selected slow-grown oak trees from the Ozark mountains of Missouri. Astar's 2017 limited-edition is just as rich and complex, offering a smooth, creamy, long celebrated single malt.
Pick up your bottle today!
More Information

| | |
| --- | --- |
| Proof | 105 (52.5% ABV) |
| Distiller/Bottler Name | Glenmorangie Distillery |
| Size | 750mL |
Rich aromas of butterscotch and honey, balanced with bright, floral top notes, the freshness of mint, freshly squeezed lemons and a delightful burst of coconut. Smooth and creamy on the palate, with sweet crème-brûlée, tropical fruits, apricots, vanilla custard, hazelnuts, buttery fudge, clove, toasted oak and a touch of cooling menthol. Honey and almond mingle with coconut ice and aniseed on a long smooth finish.
Note: This product is not eligible for gift wrapping.
Note: Not Eligible for Return
Out of stock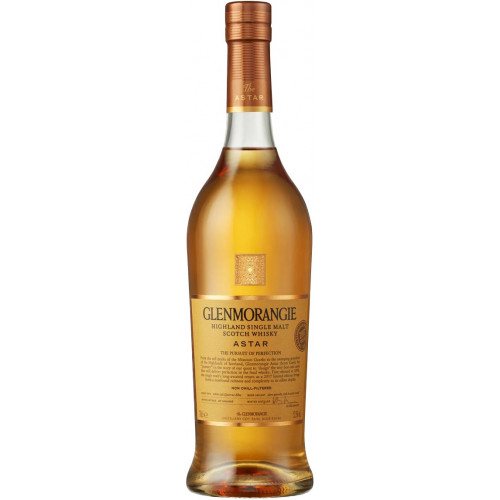 Limited Edition