The Glenfiddich Experimental Series began with their India Pale Ale Cask Seasoned Single Malt. Their newest release is no less ambitious. A symphony of flavors, Glenfiddich Project XX combined only the finest casks, chosen by 20 industry experts, to create yet another truly innovative single malt.
GLENFIDDICH
Project XX Experimental Series #2

In the heart of Speyside, in the Highlands, nestled in a majestic green aurora, sits confidently the Glenfiddich distillery. Gaelic for "Valley of the Deer," Glenfiddich puts a symbol of a stag on their emblem. Founded by William Grant (previously at Mortlach) in the summer of 1886, with his seven sons and 2 daughters, Glenfiddich is one of the only Scottish distilleries to remain family owned. the distillery was built by hand, on the banks of the the Fiddich River. The first spirit dripped from the stills a year later on Christmas day 1887.

Throughout its history, Glenfiddich has remained a resourceful business, far outpacing their competitors in production capacity and innovation. In the beginning, they produced blends for various clients, but when their biggest client Pattison went bankrupt in 1898, Glenfiddich created its own blend "Steadfast," and in 1903 Glenfiddich was incorporated as William Grant & Sons.

In 1923, Prohibition dried the markets to a trickle. Only 6 Scottish distilleries remained open, Glenfiddich was one of them. During this time, Grant Gordon—grandson of William Grant— joined the family business. At the height of Prohibition he insightfully increased whisky production, anticipating of a surge in demand after the ban.

In the late 1950s, an onsite cooperage was established, with coppersmiths to tend to the distillery's distinctive copper stills. During 1963, William Grant & Sons responded resourcefully to a grain dispute with DCL, by building their own Girvan grain distillery, and made the decision to bottle and promote Glenfiddich as a single malt. They became the first Scottish whisky to promote their single malt outside of Scotland. This perspicacity is what introduced the single malt to the entire world.

Glenfiddich has a longstanding presence in the whisky industry. Always on the forefront of imagination and innovation, it is the most awarded whisky in the world, and one of the highest selling whisky brands. In 1969 they were the first distillery to open their doors to the public…to this day they offer everything from tours, to private chef experiences. Under pagoda style roofs, are two still houses with 28 pear shaped copper stills, and handcrafted oak Solera vats that were added in 1998, to marry a range of aged spirits. They produce a colossal 10 million liters per year, using a specially sourced malted barley from Balvenie. They draw water from the Robbie Dhu Spring.

The business is now owned by the 5th generation of Grant's. They also own three additional malt distilleries; Balvenie, Kininvie and Ailsa Bay, and have also acquired other serious spirit brands such as "Monkey Shoulder and Hendrick's gin." Glenfiddich produces a diverse range of whiskies. A veritable collection of blends and single malts, differing in age statement and cask finish, Their newest range is their Experimental Series. Their full line up of experimental malts began with their India Pale Ale Cask Seasoned Single Malt, and their newest release is no less ambitious.

Glenfiddich Project XX combined only the finest casks, chosen by 20 industry experts, to create yet another truly innovative single malt. Twenty different casks were chosen from the Glenfiddich warehouses and combined into a single expression. This masterfully harmonious blend has all the traditional Glenfiddich character, replete with an unparalleled complexity of adventurous flavors and aromas.

Pick up a bottle of this innovative single malt today!
More Information

| | |
| --- | --- |
| Proof | 94 (47% ABV) |
| Distiller/Bottler Name | Glenfiddich Distillery |
| Size | 750mL |
Notes of oranges, toffee, and chocolate on the nose. The palate has flavors of vanilla, cinnamon, and honey. The finish is long, dry and sweet.
Note: This product is not eligible for gift wrapping.
Note: Not Eligible for Return
Out of stock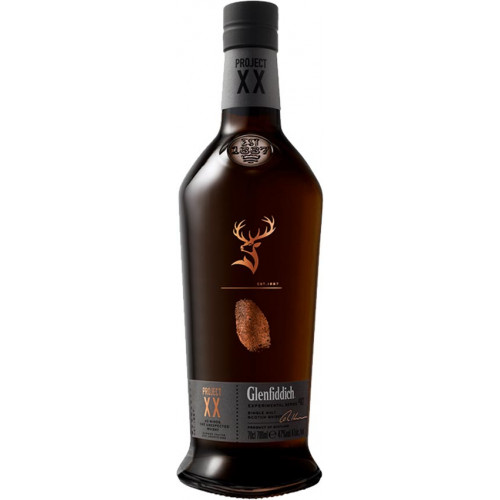 Limited Supply