Germain Robin Old Havana Alambic Brandy
This brandy was named the "Best Spirit in the World" by three different publications.
Over three decades ago, Ansley Coale picked up a hitchhiker along Route 101 just north of San Francisco. The hitchhiker — Hubert Germain-Robin — was of French origin and came from a family that had been producing cognac since 1782. As the two drove northward in Coale's car, Hubert spoke of his family's background in distillation. "Hubert wanted to distill using craft methods handed down for centuries from master to apprentice," recalls Coale, who eventually teamed up with the hitchhiker to found Craft Distillers. After purchasing an antique cognac still from an abandoned distillery in France, Hubert and Coale built a redwood shed in northern California and began distilling spirits.

Germain Robin Old Havana Brandy is the product of over two centuries of distilling heritage and experience. The brandy was originally crafted in 1984 and released under the name "For the Lover of Fine Cigars." At the time, the brandy was distilled from the juice of California grape varietals that included Pinot Noir, Sémillon, Sauvignon Blanc, Chenin Blanc, Riesling, Ehrenfelser, and French Colombard. Germain-Robin later renamed the brandy Old Havana and continued to offer it until 2001, when the winery ceased to produce it.

In 2008, however, five barrels of the brandy were discovered and used to start a solera. After aging for several years through the solera, the brandy was blended before being bottled by hand. The blend used to craft Old Havana includes brandies that are over 25 years old. As a result of this extraordinary aging process, Old Havana has a dark and rich color, along with an aroma of crisp citrus and fresh herbs. Notes of rich, deep fruit, oak and mellow tobacco dominate the palate, and lead to a finish that lingers on and on.

Germain Robin Old Havana Brandy was named "one of the world's great spirits" by Men's Journal. Pick up a bottle today!
More Information

| | |
| --- | --- |
| Proof | 80 (40% ABV) |
| Distiller/Bottler Name | Craft Distillers |
| Size | 750mL |
Aroma of vanilla and milk chocolate. Notes of meyer lemons, blood oranges, creamy sherry and red fruits on the palate. Finish is beautiful and lush, with touches of oak, spices and pears.
Note: This product is not eligible for gift wrapping.
Note: Not Eligible for Return
Out of stock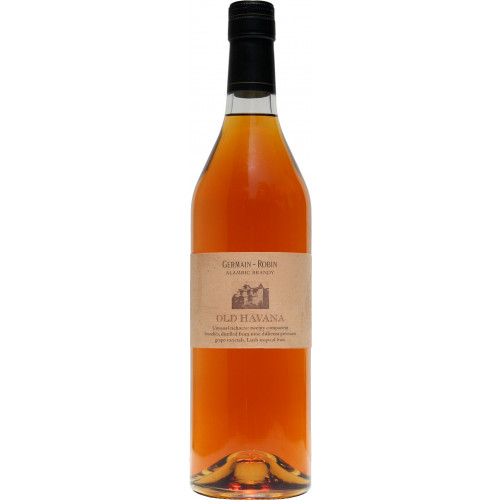 Limited Supply