Domaine de Ravignan Bas Armagnac Vintage 1985
This Vintage Bas-Armagnac Domaine Ravignan is a crafted from vine-to-glass, at the Château de Ravignan.
Château de Ravignan vineyard is in Bas-Armagnac in Gascony, France. The company's production of Armagnac dates back three centuries. The Château de Ravignan was built in 1663 in the style reminiscent of the Louis XIII period. Registered in the survey of Historical Monuments, the charming chateau and Armagnac tradition has been in the Ravignan family for nearly three centuries.

The Bas-Armagnac is an exceptional terroir known for providing the best of the appellation. The Ravignon family brandies are aged at least ten or twelve years in barrels, to acquire the most beautiful flavors. The Ravignon's oversee production completely from vine to harvest, from the oaks destined for the barrels, to the entire distillation, to the aging in the cellars, to the marketing of the product.

Domaine Ravignan is managed by Jean-Henry d'Orglandes, his son Josselin and wife Christine, along with her brother Baron Louis de Ravignan. The cellar has recently been expanded to house nearly 300 barrels. The area is cool and well-ventilated which helps promote oxidation. Barrels are racked once a year and monitored frequently, with countless decades of history soaked into the walls. The Ravignan name has tremendous respect within the Armagnac region. The distillation at a low degree ensures lots of fruit, new oak gives wonderful structure and long aging ensures a natural concentration of flavors.

This vintage Armagnac has inviting aromas of roasted almonds and smoked, candied orange. The palate is full of rancio notes and toasted wood. Being produced in the Gascony region of France gives the Armagnac a depth of complexity. Crafted from grapes grown on the estate, and distilled in an alembic still, this Armagnac is extensively aged in barrels made from wood staves, sourced right from the estate's trees. This exquisite cognac is best served neat.

Pick up your bottle today!
More Information

| | |
| --- | --- |
| Proof | 84 (42% ABV) |
| Distiller/Bottler Name | Chateau de Ravignan |
| Size | 750mL |
Aromas of roasted almonds, and smoked, candied orange.The palate is full of rancio notes and toasted wood.
Note: Not Eligible for Return
Out of stock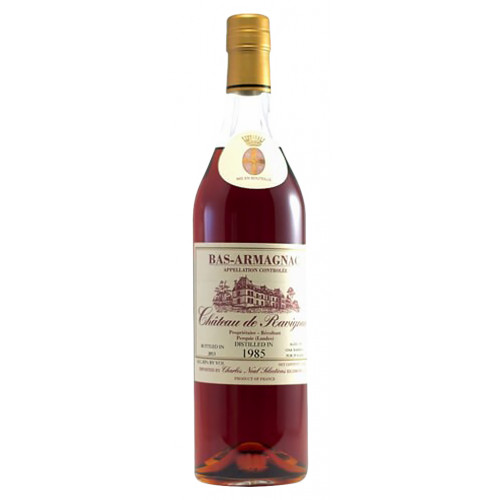 Limited Supply